Samsung Galaxy S22 battery draining quickly? Here's a few tips for extending your battery life.

Before we share a few tips on extending your battery life, we'd like to share some of the common causes. The new Samsung Galaxy S22 has an optimized power mode feature which allows the phone to adapt its battery life to the way you use your smartphone. In other words, the phone's AI will allocate battery consumption based on your usage patterns thus normally extending the battery life. That said, users tend to download a large number of applications and features within the first three days of purchase. During this time, the default device settings and background running frequency are being optimized thus increasing the battery drain. After 7 days of use, the AI ​​learns and adjusts the battery usage to suit the way you use your smartphone thus normalizing battery drain speeds.
Another possible cause could include the high refresh rate of the screen. The Samsung Galaxy S22 supports a screen refresh rate of up to 120Hz, which results in smoother animations and scrolling but will drain your battery life at a faster rate. There are two modes that you can switch between – Smooth Motion and Adaptive 120Hz. With the Adaptive 120Hz, your device will automatically change the refresh rate of your display depending on the content being played whereas with Smooth Motion, it'll cap the refresh rate at 60Hz.

If you want to save battery power, we recommend setting the screen to Smooth Motion. The settings can be adjusted using the following path: Settings > Display > Motion Smoothness > Standard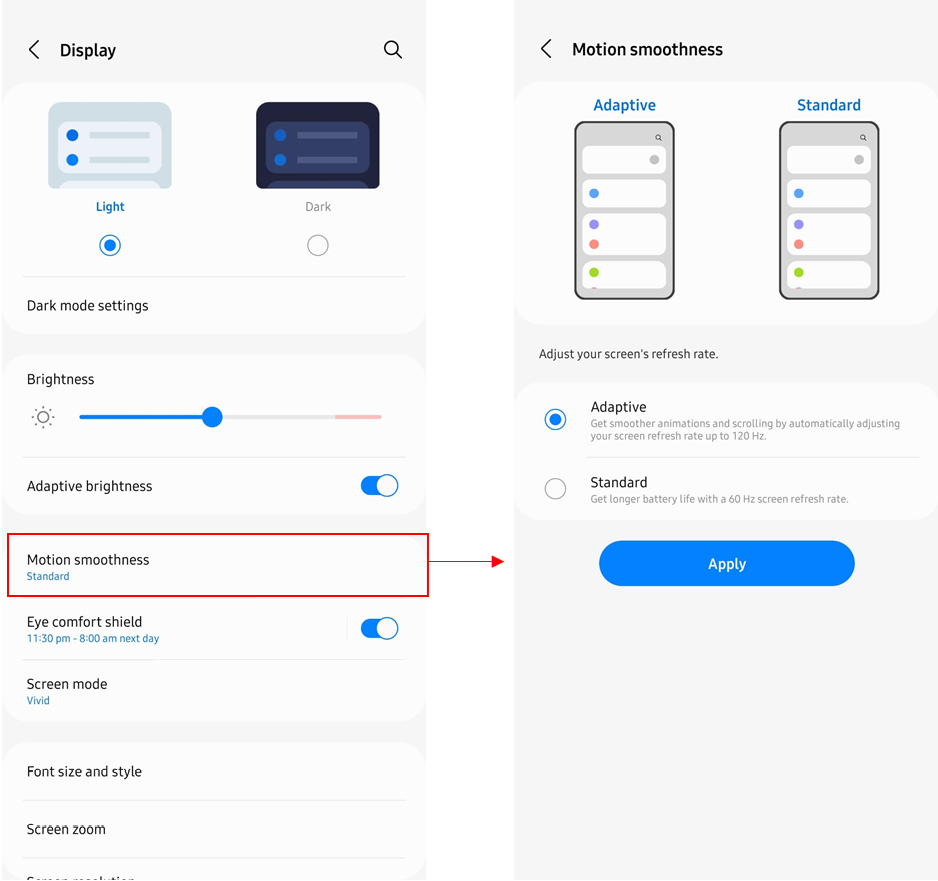 Another tip that will help extend your battery life is to ensure that Adaptive battery option is on. You can do so by following this path: Settings > Battery & device care > Battery > More battery settings > Adaptive battery. Additionally, you can put unused apps to sleep By going to Settings > Battery & device care > background usage limits > Put unused apps to sleep depending on usage patterns.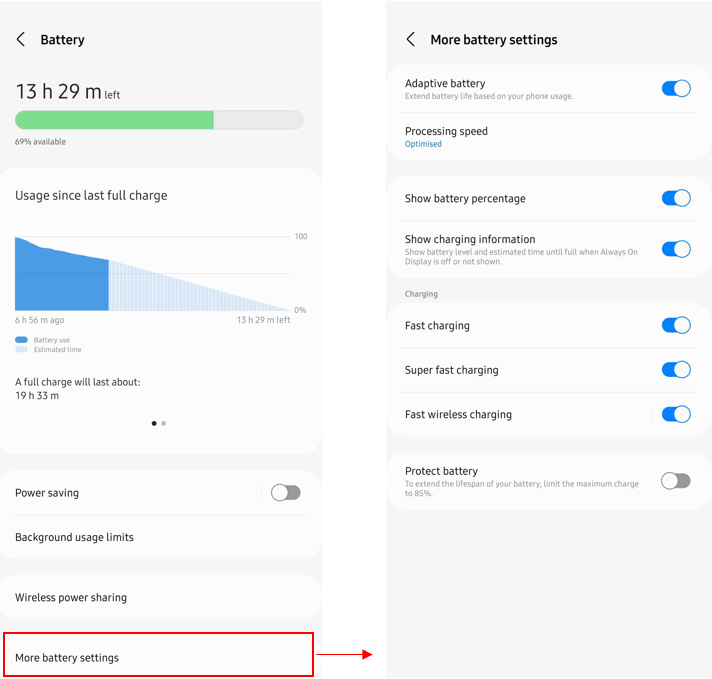 *Typical values ​​are tested according to the conditions of third party laboratories. This is an estimated average value considering the deviation in battery capacity from the battery samples tested under IEC 61960 standard. Rated (minimum) value is 4855mAh for Galaxy Devices. Actual battery life may vary. It depends on the environment, network, usage patterns. and other factors
We hope that these tips help in extending your battery life. If you're looking for more tips, do check out this video here.
Samsung Galaxy makes it easy to get the most life out of your device's battery. With a few simple taps, you can make sure the battery status is optimal and make adjustments as needed. Follow these steps to enjoy your mobile life without interruption, hassle-free. Learn more: ...