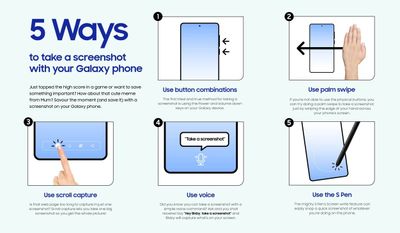 Whether you just reached a new level in a game or want to save an important document, you can capture it by taking a screenshot on your Galaxy phone. Depending on the type of phone you have, capturing a screenshot may be a little different. Either way, it's an easy and convenient process for saving images on your phone.
On some phones, you can use Palm swipe to take a screenshot without pressing a button. To use this function, go to Settings, search for and select Palm swipe to capture. Then, tap the switch next to "Palm swipe to capture." Now you'll be able to take a screenshot just by swiping the edge of your hand across your phone's screen.
Tell us, which one is your favorite screenshot method?
Note: Available screenshot methods and settings may vary by wireless service provider, software version, and phone model. The screenshot function may not work while in Secure Folder.