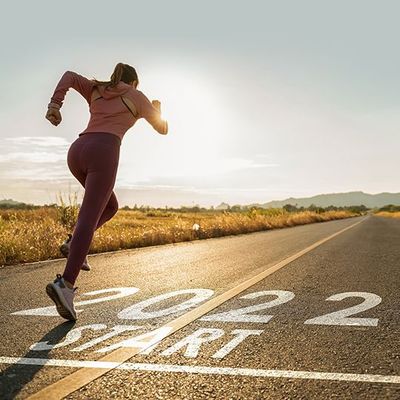 It's important to take stock of what's essential in your life.
Create a list of resolutions that can help you make a better-for-you lifestyle with Samsung Galaxy.
#1 Get fitter!
Running, sleep quality, health balance, and your diet.
Samsung Galaxy can manage all of them.
Learn more about what Samsung Health can do for you.
4 habits to become healthier
1. Sit less, run more!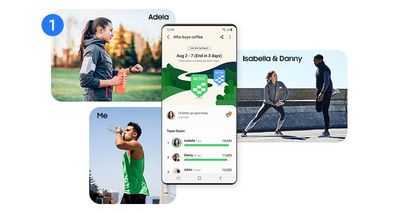 Try out Samsung Health app's 'Together Challenge.'
If it is not easy to work out alone, do with friends by creating your desired challenge.
How-to: Samsung Health > Tap 'Together' > Tap 'Challenges' > Choose either 'Get there first' or 'Go the farthest'
2. Sleep soundly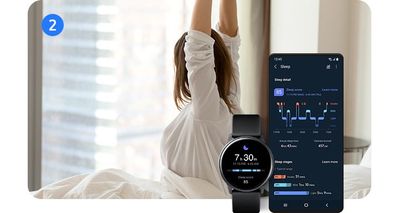 Discover your 'Sleep score' based on how much you sleep and the quality of your sleep throughout the night with Samsung Health app and Galaxy Watch.
3. Balance out your body fitness
Gain insights on your overall body composition.
Get fitness suggestions based on your weights and body fat.
* Only available on Galaxy Watch4 series
4. You are what you eat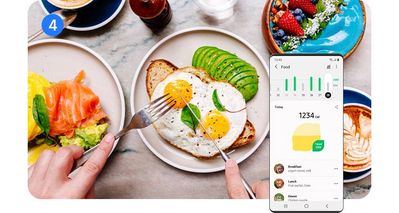 Lost of track what you are eating?
Create healthy diet habits with Samsung Health and track the daily nutrient intake!
+ Check out this app!

Meet your personal trainer!
Enhance your life with Samsung Health. From sleep quality, body composition to your diet, Samsung Health will take care of them.
#2 Smart habits, smarter life.
Wonder how to get more done in a day?
Samsung Galaxy will boost your daily productivity 24/7!
Upgrade your productivity
1. Get prepared with To-do list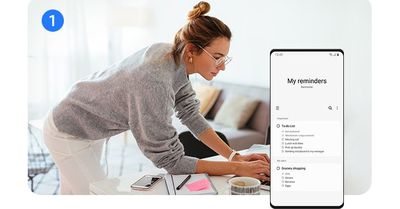 When you have a lot of work to do, try making a to-do list. Manage from A to Z with Reminder app's various features.
2. Take notes whatever that is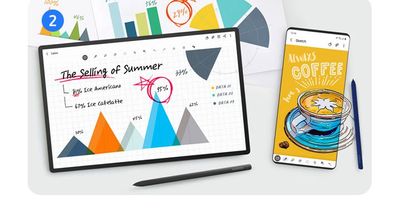 Came up with a good idea? Seize all your inspirations in Samsung Note, regardless of the format. It can be a drawing or text!
+ Check out this app!

Make your To-do list with Reminder
Create today's agenda with Reminder app. It's quick and easy to make reminders on your Samsung Galaxy device.

Create notes with Samsung Notes
Samsung Notes is a hub for all your hand-written notes, sketches, and drawings. Quickly access to taking notes wherever you are.
#3 Add more joy to your life.
Fulfill your daily life with your favorite yet energizing hobbies. Here are some activities that you can easily enjoy at home with Samsung Galaxy.
Nourish yourself inside and out
1. Cook at home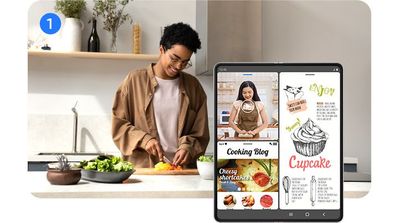 Follow the cooking video step by step. Need to take a note? Use the multi-window feature on Samsung Galaxy to take notes while watching a cooking video at the same time!
2. Call it a day with meditation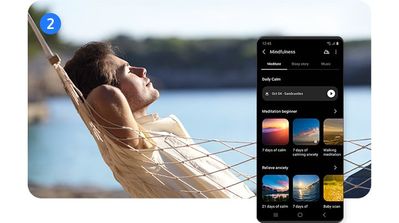 Ease your mind with Calm features through meditation or sleep programs. Make your everyday happier and heathier.
+ Check out this app!

Multi window to multitask
Focus on what you're doing, many things at once.
How to: Open 'Edge panel' > Drag and drop an app to launch in 'Multi window'
* Multi window may not be applied in some apps.

Manage your mindfulness with Calm
Explore meditation activities to help you get back into the swing of work or school
How to: Open Samsung Health > Tap 'Fitness' > Tap 'Mindfulness'
* Availability varies by region. Calm subscription is required.
This year, it's time to put you first.
Bring out the best in you with Samsung Galaxy.
※ Images shown are for illustration purposes only.
※ This content is developed based on Galaxy S21 (Android version 12, One UI version 4.0). Availability of the features, user interfaces may vary depending on the region/country, OS/One UI version, and phone carrier. Subject to change without notification.
Copyrightⓒ 2016-2022 Samsung Electronics Co., Ltd. All Rights Reserved