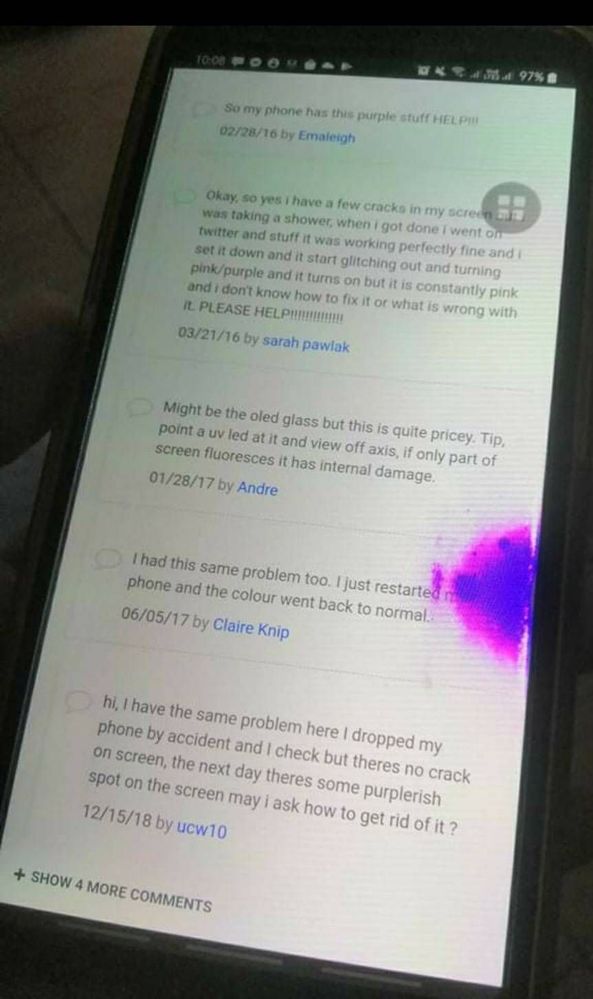 My Samsung A7 2018 that I've been using since February 5, 2019 , first and major problem. It saddened me that this happened, after I woke up and immediately grab my phone, this pink/purple thing is the first thing I saw.
Asked my family who did this,but apparently no one. They said they didn't even touch my phone. I was wondering what happened.
Seldomly falls in the floor, my tempered glass is not even cracked since few months now.
Im soooo sadddd. Maybe this is the sign to changed my phone.
I think, I might changed to "try" other brand. Will catch up to you guys once I get there.
1 Solution
Hey there! I'm Sam, your friendly Samsung Customer Service guy.
Please give us a call via our toll-free hotlines:

MOBILE: #GALAXY [#425299]
(02) 8-422-2177 [Standard Landline]
Available 24/7

LANDLINE: PLDT Toll-free: 1-800-10-726-7864
Globe Toll-Free: 1-800-8-726-7864
Standard Landline : (02)8-422-2111
Daily (8:00 AM to 8:00 PM)

LIVE CHAT SUPPORT: https://livechat.support.samsung.com/Customer_new/PH
Our support team will gather data for documentation, and will further arrange an appointment on your nearest ASCs (door-to-door pick-up is available for users within NCR) for assessment, and/or replacement of the part/s should the cause be determined to be software related (highly subjected for approval). Hope to have helped you! 😊
Hey there! I'm Sam, your friendly Samsung Customer Service guy.
Please give us a call via our toll-free hotlines:

MOBILE: #GALAXY [#425299]
(02) 8-422-2177 [Standard Landline]
Available 24/7

LANDLINE: PLDT Toll-free: 1-800-10-726-7864
Globe Toll-Free: 1-800-8-726-7864
Standard Landline : (02)8-422-2111
Daily (8:00 AM to 8:00 PM)

LIVE CHAT SUPPORT: https://livechat.support.samsung.com/Customer_new/PH
Our support team will gather data for documentation, and will further arrange an appointment on your nearest ASCs (door-to-door pick-up is available for users within NCR) for assessment, and/or replacement of the part/s should the cause be determined to be software related (highly subjected for approval). Hope to have helped you! 😊
Same thing happen to my phone please help me too