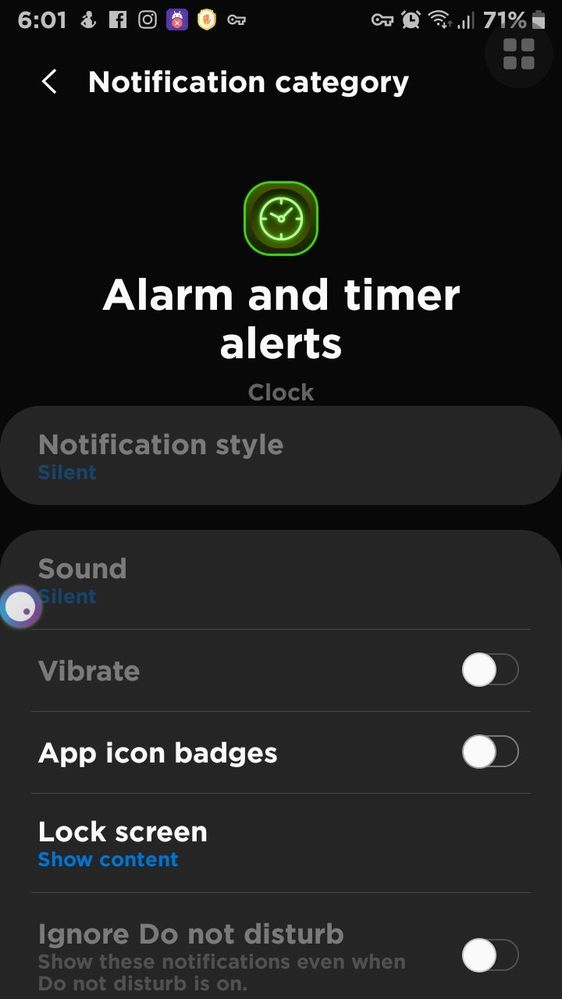 Hello nintendohelp,
Thank you for reaching out to us in order to find out what's behind your Samsung Galaxy device Alarm and timer alerts grayed out.
But don't worry, we are here to help providing quick fixes and offer resolutions to your problem.
A) Before we start, please ensure that your device is up-to-date with the latest Software updates.
Settings > About Phone > Software Updates > Download if available > Install > Follow on-screen notifications.
Following are basic steps to troubleshoot to find the possible reasons behind the issues with the possible solutions as below:
B) Check and rectify the "Do not disturb on" - disable it by toggle it off. Check again your Alarm notifications to see if its working.
C) For more, If you're experiencing unusual behavior on Samsung mobiles, you can send us an error report or ask us a question in the Samsung Members app.
This allows us to take a closer look at what is happening. The data is anonymized and only held for the duration of the investigation. Find out more about sending an error report through the Samsung Members app.
D) If the issue persists, you may contact us on online Samsung support channels by clicking the below links.
https://www.samsung.com/ph/support/contact/#onlinesupport
https://samsung-livechat.sprinklr.com/seao/ph/index.html
Or Contact our Samsung Hotline numbers below.
#GALAXY or #425299 [Mobile Phones & Tablets]
Available 24/7
1-800-10-7267864 [All Product, Toll Free, PLDT]
1-800-8-7267864 [All Product, Toll Free, Globe]
84222111 [All Product, Landline]
Daily (8:00 AM to 8:00 PM)
Hope you find this content is helpful and your problem gets solved.
You need those for your alarms and timers. You can't disable them, but you can disable the alarms from the Clock app.