Hi everyone. Good day.
I am a S22U user and once a while will dina factory reset and do a clean app install except contacts, whatsapp messages, photos and call logs will be auto sync through cloud.
Mybonly concern is now (S20+ still have Samsung Cloud for Secure Folder backup) in S22 I dont have a easy & safe way to backup my Secure Folder. Is there any BKMs for backing up SF while ensureing its confidentialliylty?
There is no more backup option (S22U)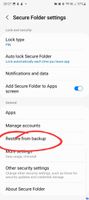 welp, sorry mate, it seems Samsung recently drop down support for cloud backup for samsung's secure folder.

do you trust your cloud storage encryption and confidentiality e.g. google drive? well, you can install google drive inside your secure folder storage environment, and from there you can upload and restore your files anytime, anywhere you want soon.

BUT, normally google drive will show very Large preview of recently uploaded files from their home menu (phone apps).
Manage to find a workaround. Transfer Secure Folder to another phone (using my S8+) using wireless Smart Switch. Everything seems going smooth including the PIN. Fuh 🤦🏻‍
♂️
. Hope Samsung come out with some solution else the Secure Folder is just useless if you have all thr data and the phone is lost/damaged and there is no way to get all those content.