Is there any way that I can safely uninstall an update in my Samsung device? Without having to do tech works or damaging my phone's software in the process?
Unfortunately you can't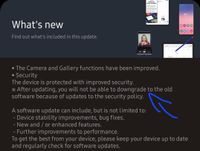 Hello leemao5,
KyleKyle is right!
And we are sorry, but you cannot rollback your Samsung device to the last updates once they have been installed because of the updates to its security policy.