Options
Mark as New

Bookmark

Subscribe

Email to a Friend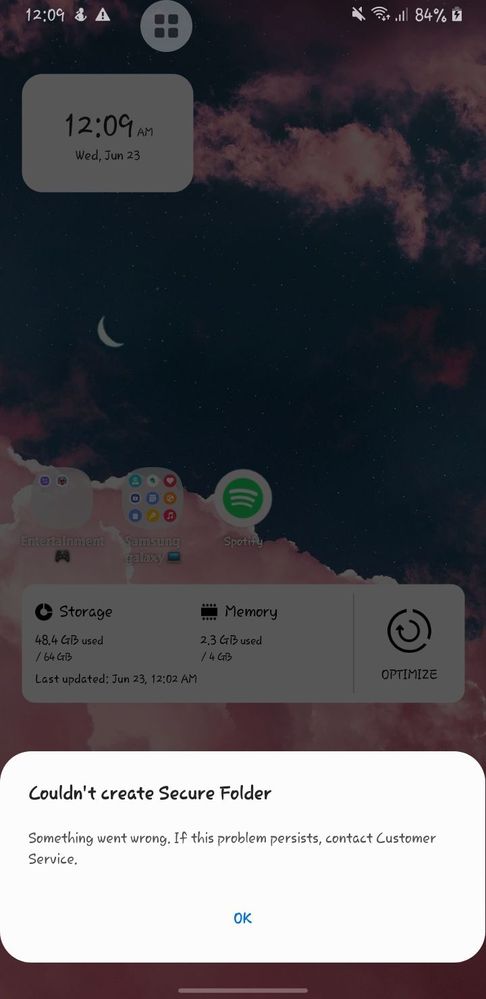 Any solution for this ,is my first time using it .should I contact customer service?
Options
Mark as New

Subscribe

Email to a Friend
Secure Folder protects your private content and apps, such as photos and notes, from being accessed by others. Keep your private content and apps even when the device is unlocked. You can also use multiple accounts on a single device.

1.On the Apps screen, tap Secure Folder.

2.Tap START

3.To use Secure Folder, you should sing in to Samsung account. Tap SIGN IN.

4.Enter your Samsung account information and then tap SING IN.

5.Select a lock method to use for Secure Folder.

If you forget how to unlock Secure Folder, you can reset your lock using your Samsung account.

6.If setup is completed, a shortcut to Secure Folder will be added to the Home and Apps screens.

Options
Mark as New

Subscribe

Email to a Friend
NOTE: Secure Folder is a separate, secured storage area. The data and apps in Secure Folder cannot be transferred to other devices.
Attempting to customize the operating system or modifying software will cause Secure Folder to be automatically locked and inaccessible.
Before saving data in Secure Folder, make sure to back up a copy of the data in another location.