Hi, I placed an order on 1st of June 2023 and chose In-store pickup which was around 10:22am. I've checked whether if it was ready to be picked up because it says arrives on 2nd of June but now it's already 3rd June and still isn't ready for pickup. Which the delay doesn't make sense since it's a in-store pickup. Might as well chosen to delivery directly even if choosing for an in-store pickup will take up this kind of delay. I'm not usually a complainer but I really need to use the tab since I am a student and I ordered it online because of the student discount. It's my first time ordering online from the official store and I'm not making sense of this kind of delay since it's a in-store pickup 🥺 I'm sorry for asking.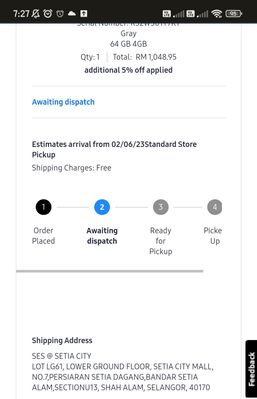 it keeps changing from this to this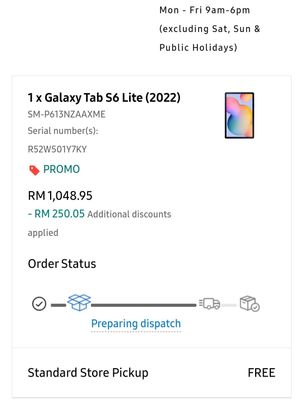 and when I click the preparing dispatch it says "you have collected your order". Am I supposed to go collect it today? But I haven't received the email ready for pickup. I am confused here 🥺🥺
I suggest that you give them a call first before you go pick up or else later you might go there for nothing. FYI, no matter it is a delivery to your house or at a pick up store, Samsung Malaysia will always delay one (call them to check out is a must). I believe many people experience this before as in how good is Samsung Malaysia delivery (which is not good) - No offense, but is a fact. Lol.
Don't feel sorry for asking question. It is your rights to ask anything.
Anyways, do give them a call to check first.
Enjoy your weekend.
Hi I ordered my s23 on 1/6 2am for instore collection, this morning received message from DHL on the updates of the dispatch, and 30 mins later, I was informed by the store to collect the phone. I went and collected the phone around 3pm.However, the after sales services that I requested wasn't being performed due to the PIC from Samsung was on leave, and I am disappointed for their after sales service as I have to do the migration by myself and I'm still exploring the transfer..