After years of eager anticipation, the 5G future is well and truly here.
Today, Samsung has the widest range of 5G-enabled smartphones – from the affordable Galaxy A22 5G, to the flagship Galaxy S21 Ultra 5G – that offers something for every type of mobile user, letting you share more, play more and do more.

Whether you're an avid gamer, content creator, round-the-clock hustler or just someone looking for the essentials, 5G unlocks the possibilities of a next-level mobile experience by enabling an unprecedented increase in data speed, and a reduction in latency.

Read on to find out which 5G device is ideal for you:
1. The Content Creator/Social Media Maven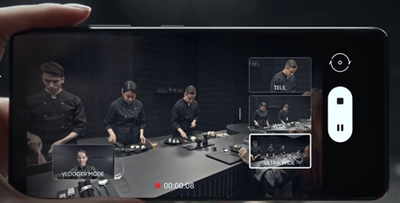 You keep up to date on the latest social media trends by the minute and you know when a fad has reached its peak. When out and about, you keep your eyes peeled for content to entertain your social media audience.
You demand a lot from your smartphone – it must capture content at FHD or even 4K quality, and, at the same time, be powerful enough to edit content on the go. More importantly, your smartphone needs to be able to upload content fast, or stream content live with minimal lag.
The 5G Device for you: Samsung Galaxy S21 Ultra 5G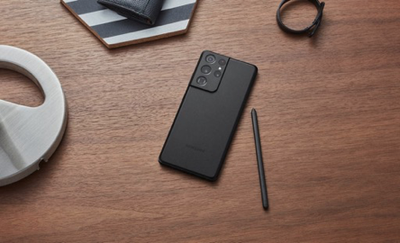 Recently recognized as the Best Smartphone of 2021 at the Global Mobile Awards for its stunning display and best-in-class camera, it's not hard to see why the Galaxy S21 Ultra 5G is the perfect smartphone for content creators!
Equipped with a 108-megapixel camera, the highest resolution possible on a smartphone, the Galaxy S21 Ultra 5G captures so much detail that you can pinch out on each image and reveal even more shots within![1]

The S21 Ultra 5G boasts the option of shooting videos in an industry-leading 8K resolution[2] – video quality so high, you can pull epic high-resolution photos straight from video. No need to choose between shooting video or stills – you now have infinite content options within a single take!

Once you've picked your picture perfect shots and stills, the industry-leading display of the S21 Ultra 5, which features a 6.8" screen, super smooth 120Hz Display and dynamic AMOLED 2 lets you edit your content with optimal clarity and to the finest of details with the help of the S Pen stylus (sold separately).
[1] Maximum image cropping is subject to display resolution and the original image size.
[2] 8K video can only be shot in 24 frames per second (FPS)
The 5G Advantage
For social media enthusiasts who enjoy interacting with followers over live streams, 5G connection speeds ensure the highest quality even when streaming "live," with close to no lag.

Superior resolution videos and photos require more storage. The Galaxy S21 Ultra 5G comes equipped with storage sizes up to 512GB, but should you run out of space, 5G network speeds mean that you can now instantaneously save large files in the cloud. Have fun and capture your best moments liberally, without the worry of storage space constraints!
2. The always-on executive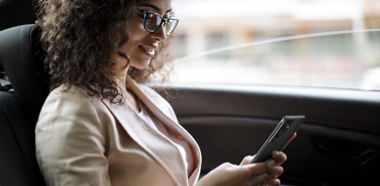 Who are you?
Career is the biggest priority in your life. Driven by an always-on mind set, you are ever-ready to jump into a virtual meeting, reply to emails and work on documents at any time. Adept at dealing with multiple tasks at once, you need a phone that can keep up with you as you take on the world.
The 5G Device for you: Samsung Galaxy Z Fold2 5G
A trailblazer in its class, the Galaxy Z Fold2 5G is a cutting-edge foldable smartphone with a 6.2-inch screen[1] that unfolds to reveal a 7.6-inch foldable display[2].
[1] Measured diagonally, the screen size is 6.2" in a full rectangle and 6.2" accounting for the rounded corners. The actual viewable area is smaller due to the rounded corners and camera hole.
[2] Measured diagonally, the screen size is 7.6" in a full rectangle and 7.5" accounting for the rounded corners. The actual viewable area is smaller due to the rounded corners and camera hole.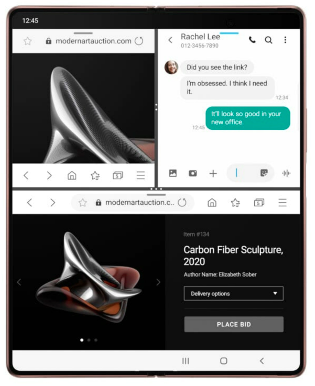 With the capability to run up to three apps at once, the Multi-Active Window[1] feature allows you to respond to emails, review documents and iron out details with your team over chat, all from a single screen.
For instances when you need to jump on a meeting while away from your computer, The Galaxy Z Fold2's Hideaway Hinge makes hands-free conference calls a breeze with Flex Mode[2] [3]. Simply unfold your phone to the desired angle, set it on your desk, and you can talk with colleagues while jotting down notes. With its 10MP front camera, you'll always appear crystal clear on the other end of the video call.

The 5G Advantage
5G connectivity lets you make the most out of the cutting-edge features of the Galaxy Z Fold2, fulfilling your need for optimal productivity on-the-go, at any place.
[1] Certain applications may not support Multi Active Window.
[2] The hinge hardware supports Flex mode at angles between 75° and 115°. For your convenience, Flex mode can also be set to activate before or after 75° and 115°. It may be difficult to maintain Flex mode while moving due to shaking or other movement. It is recommended to keep the phone stationary while in Flex mode.
[3] Certain applications may not support Flex mode.
With 5G speeds, you can be assured of remote virtual meetings with little to no glitches or lags[1]. Additionally, you'll no longer require a desktop to download and edit large documents such as PowerPoint slides and Excel spreadsheets. The superior download speeds of a 5G network, coupled with its wide screen allows you to work at full efficiency, all day.
3. The Avid gamer
Who are you?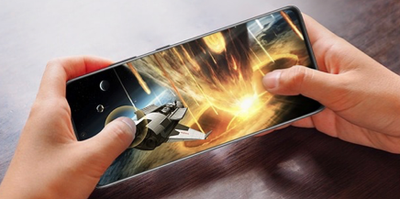 [1] Requires optimal 5G connection. 5G services are only supported in 5G network enabled locations. Actual speed may vary depending on country, carrier, and user environment.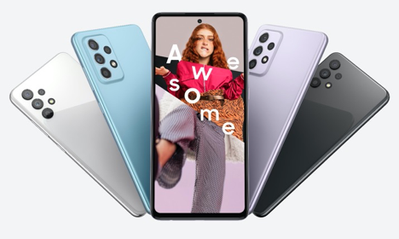 Tailor-made for gamers, the Galaxy A52 5G is equipped with an expansive 6.5-inch[1] FHD+ Super AMOLED display reaching 800 nits[2] for clarity even in bright daylight, letting you game anytime and anywhere.

Game Booster[3], a dedicated interface with an easy-to-reach menu, optimises your gaming experience by learning your usage patterns to optimise battery, temperature and memory, while Frame Booster gives graphics smooth, life-like motion. Meanwhile, Eye Comfort Shield[4] reduces blue light, letting you game for hours on end while keeping your eyes protected.

The 5G Advantage
With advancements in 5G wireless technology bringing high speeds and virtually no lag, you can enjoy your favourite games at optimal resolution and latency, with close to no disruptions in real-time.

Beyond the mobile games available today, a 5G smartphone is also equipped to support the gaming advancements of tomorrow. This includes games hosted on cloud-based gaming platforms, which brings console-level processing power and latency to your fingertips, as well as VR and AR games – all of which are set to be a reality in the near future.
[1] Measured diagonally, the screen size is 6.5"" in the full rectangle and 6.3"" accounting for the rounded corners. Actual viewable area is less due to the rounded corners and the camera hole.
[2] In case the adaptive brightness is set 'On' in the setting. When the display is exposed to over 20,000 lux as recognized by the brightness sensor of the phone, such as under environments with lots of ambient light or direct sunlight, it may increase up to 800nits brightness. The brightness values measured by the sensor may differ depending on the angle of light.
[3] Game Booster compatibility may vary by game.
[4] 2. Galaxy A52 5G (SM-A526)'s display received Eye Care Certification by SGS based on its ability to reduce the harmful effects of blue light. This certification can be found on https://www.sgs.com.
4.The no-frills smartphone user
When it comes to a smartphone, you care about the basics the most – being able to connect with your loved ones, and carry out essential tasks such as grocery shopping, navigating, and booking a ride-hailing service.
The 5G Device for you: Samsung Galaxy A22 5G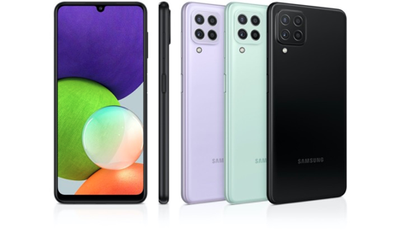 Equipped with an Octa-core processing power with 4GB of RAM for fast and efficient performance, the Galaxy A22 5G is all you need for daily tasks at hand.
The 6.6-inch Infinity-V Display of Galaxy A22 5G, along with its FHD+ display technology, makes your everyday content look better— whether you're connecting with loved ones over a video call, or just casually browsing the internet.
The 5G Advantage
5G promises to elevate the daily mobile experience for all – and this includes the no-frills smartphone user, who can now enjoy crystal clear video calls, and browse the internet seamlessly anytime and anywhere.

At just $399, the Galaxy A22 5G brings cutting edge 5G technology to everyone, as one of the most affordable 5G smartphones in the market today.

The Knox advantage
Beyond the nifty features of Samsung's suite of 5G mobile devices, users can enjoy their devices with peace of mind with the integration of Samsung Knox within their devices. Built into the phone's hardware and software from the start, Samsung Knox protects your phone from the minute it's turned on, from the chip up. Offering multi-layered security, it defends your most sensitive information from malware and malicious threats, giving you more confidence in your data and app permissions.
The Future is Here with Samsung 5G
5G-enabled smartphones offer a generational leap in experience, with significantly superior connection speeds that optimises the hardware and software capabilities of today's powerful devices. There is no better time than now to work smarter and play harder with your 5G smartphone!