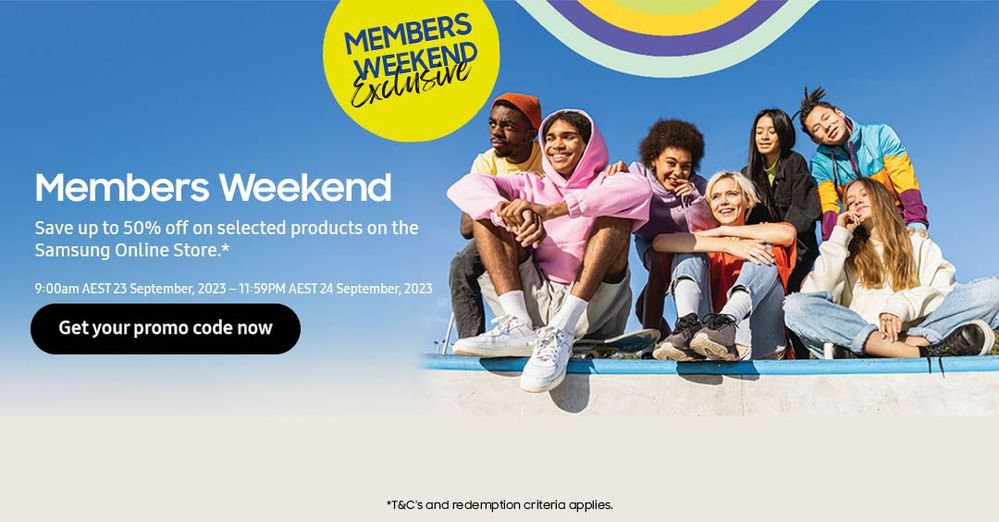 Members Exclusive
Members Weekend
UP TO 50% OFF SELECTED PRODUCTS OR ADDITIONAL $200 TRADE IN OFFER
Offer Available Online between 23 September, 2023 to 24th September 2023
Click here to visit the Samsung Australia Online Store today
How to redeem your voucher
If you are viewing this post in your Samsung Members App, please click here to access your benefits section; then click on the "Members Weekend Up to 50% off selected products or additional $200 Trade in Offer" banner to download your exclusive voucher.
Can't access the Samsung Members App but don't want to miss out? No Problem!
Email the Team on members.au@samsung.com to find out how you can claim the offer.
*Offer available with selected products from 23.09.2023- 24.09.2023. Available on Samsung Australia Online Store only when you purchase a participating product, subject to stock availability. For full T&C's visit here
Participating Products (up to 50% off Selected Product Offer)
Additional 10% off discount:
All TV & AV products
https://www.samsung.com/au/tvs/
All Home Appliance products
https://www.samsung.com/au/home-appliances/
50% off discount:
Galaxy Watch4 Bluetooth (40mm) (Pink) (SM-R860NZDAXSA)
https://www.samsung.com/au/watches/galaxy-watch/galaxy-watch4-pink-gold-bluetooth-sm-r860nzdaxsa/buy...
Galaxy Watch4 Bluetooth (40mm) (Black) (SM-R860NZKAXSA)
https://www.samsung.com/au/watches/galaxy-watch/galaxy-watch4-black-bluetooth-sm-r860nzkaxsa/buy/
Galaxy Watch4 Bluetooth (44mm) (Green) (SM-R870NZGAXSA)
https://www.samsung.com/au/watches/galaxy-watch/galaxy-watch4-green-bluetooth-sm-r870nzgaxsa/buy/
Galaxy Watch4 Bluetooth (44mm) (Black) (SM-R870NZKAXSA)
https://www.samsung.com/au/watches/galaxy-watch/galaxy-watch4-black-bluetooth-sm-r870nzkaxsa/buy/
Galaxy Watch4 Bluetooth (44mm) (Silver) (SM-R870NZSAXSA)
https://www.samsung.com/au/watches/galaxy-watch/galaxy-watch4-silver-bluetooth-sm-r870nzsaxsa/buy/
Galaxy Watch4 LTE (40mm) (Pink Gold) (SM-R865FZDAXSA)
https://www.samsung.com/au/watches/galaxy-watch/galaxy-watch4-pink-gold-lte-sm-r865fzdaxsa/buy/
Galaxy Watch4 LTE (40mm) (Black) (SM-R865FZKAXSA)
https://www.samsung.com/au/watches/galaxy-watch/galaxy-watch4-black-lte-sm-r865fzkaxsa/buy/
Galaxy Watch4 LTE (40mm) (Silver) (SM-R865FZSAXSA)
https://www.samsung.com/au/watches/galaxy-watch/galaxy-watch4-silver-lte-sm-r865fzsaxsa/buy/
Galaxy Watch4 LTE (44mm) (Green) (SM-R875FZGAXSA)
https://www.samsung.com/au/watches/galaxy-watch/galaxy-watch4-green-lte-sm-r875fzgaxsa/buy/
Galaxy Watch4 LTE (44mm) (Black) (SM-R875FZKAXSA)
https://www.samsung.com/au/watches/galaxy-watch/galaxy-watch4-black-lte-sm-r875fzkaxsa/buy/
Galaxy Watch4 LTE (44mm) (Silver) (SM-R875FZSAXSA)
https://www.samsung.com/au/watches/galaxy-watch/galaxy-watch4-silver-lte-sm-r875fzsaxsa/buy/
Galaxy Watch5 Bluetooth (40mm) (Silver) (SM-R900NZSAXSA)
https://www.samsung.com/au/watches/galaxy-watch/galaxy-watch5-40mm-silver-bluetooth-sm-r900nzsaxsa/
Galaxy Watch5 Bluetooth (40mm) (Pink Gold) (SM-R900NZDAXSA)
https://www.samsung.com/au/watches/galaxy-watch5/buy/?modelCode=SM-R900NZDAXSA
Galaxy Watch5 Bluetooth (40mm) (Graphite) (SM-R900NZAAXSA)
https://www.samsung.com/au/watches/galaxy-watch5/buy/
Galaxy Watch5 Bluetooth (44mm) (Graphite) (SM-R910NZAAXSA)
https://www.samsung.com/au/watches/galaxy-watch5/buy/
Galaxy Watch5 Bluetooth (44mm) (Sapphire) (SM-R910NZBAXSA)
https://www.samsung.com/au/watches/galaxy-watch5/buy/
Galaxy Watch5 Bluetooth (44mm) (Silver) (SM-R910NZSAXSA)
https://www.samsung.com/au/watches/galaxy-watch5/buy/
Galaxy Watch5 Bluetooth + 4G (40mm) (Silver) (SM-R905FZSAXSA)
https://www.samsung.com/au/watches/galaxy-watch5/buy/
Galaxy Watch5 Bluetooth + 4G (40mm) (Pink Gold) (SM-R905FZDAXSA)
https://www.samsung.com/au/watches/galaxy-watch5/buy/?modelCode=SM-R905FZDAXSA
Galaxy Watch5 Bluetooth + 4G (40mm) (Graphite) (SM-R905FZAAXSA)
https://www.samsung.com/au/watches/galaxy-watch5/buy/
Galaxy Watch5 Bluetooth + 4G (44mm) (Graphite) (SM-R915FZAAXSA)
https://www.samsung.com/au/watches/galaxy-watch5/buy/
Galaxy Watch5 Bluetooth + 4G (44mm) (Sapphire) (SM-R915FZBAXSA)
https://www.samsung.com/au/watches/galaxy-watch5/buy/
Galaxy Watch5 Bluetooth + 4G (44mm) (Silver) (SM-R915FZSAXSA)
https://www.samsung.com/au/watches/galaxy-watch5/buy/
Participating Product (Additional $200 Trade-In Offer):
Galaxy Z Flip5 256GB (Mint)(SM-F731BLGAATS) https://www.samsung.com/au/smartphones/galaxy-z-flip5/buy/
Galaxy Z Flip5 256GB (Graphite) (SM-F731BZAAATS) https://www.samsung.com/au/smartphones/galaxy-z-flip5/buy/
Galaxy Z Flip5 256GB (Lavender) (SM-F731BLIAATS) https://www.samsung.com/au/smartphones/galaxy-z-flip5/buy/
Galaxy Z Flip5 256GB (Cream) (SM-F731BZEAATS) https://www.samsung.com/au/smartphones/galaxy-z-flip5/buy/
Galaxy Z Flip5 256GB (Grey)( SM-F731BZUAATS) https://www.samsung.com/au/smartphones/galaxy-z-flip5/buy/
Galaxy Z Flip5 256GB (Blue) (SM-F731BZBAATS) https://www.samsung.com/au/smartphones/galaxy-z-flip5/buy/
Galaxy Z Flip5 256GB (Green) (SM-F731BZGAATS) https://www.samsung.com/au/smartphones/galaxy-z-flip5/buy/
Galaxy Z Flip5 256GB (Yellow) (SM-F731BZYAATS) https://www.samsung.com/au/smartphones/galaxy-z-flip5/buy/
Galaxy Z Flip5 512GB (Mint) (SM-F731BLGEATS) https://www.samsung.com/au/smartphones/galaxy-z-flip5/buy/
Galaxy Z Flip5 512GB (Graphite) (SM-F731BZAEATS) https://www.samsung.com/au/smartphones/galaxy-z-flip5/buy/
Galaxy Z Flip5 512GB (Lavender) (SM-F731BLIEATS) https://www.samsung.com/au/smartphones/galaxy-z-flip5/buy/
Galaxy Z Flip5 512GB (Cream) (SM-F731BZEEATS) https://www.samsung.com/au/smartphones/galaxy-z-flip5/buy/
Galaxy Z Flip5 512GB (Grey)(SM-F731BZUEATS) https://www.samsung.com/au/smartphones/galaxy-z-flip5/buy/
Galaxy Z Flip5 512GB (Blue) (SM-F731BZBEATS) https://www.samsung.com/au/smartphones/galaxy-z-flip5/buy/
Galaxy Z Flip5 512GB (Green) (SM-F731BZGEATS) https://www.samsung.com/au/smartphones/galaxy-z-flip5/buy/
Galaxy Z Flip5 512GB (Yellow) (SM-F731BZYEATS) https://www.samsung.com/au/smartphones/galaxy-z-flip5/buy/
Galaxy Z Fold5 256GB (Icy Blue) (SM-F946BLBAATS)
https://www.samsung.com/au/smartphones/galaxy-z-fold5/buy/
Galaxy Z Fold5 256GB (Phantom Black) (SM-F946BZKAATS)
https://www.samsung.com/au/smartphones/galaxy-z-fold5/buy/
Galaxy Z Fold5 256GB (Cream) (SM-F946BZEAATS)
https://www.samsung.com/au/smartphones/galaxy-z-fold5/buy/
Galaxy Z Fold5 256GB (Grey) (SM-F946BZUAATS)
https://www.samsung.com/au/smartphones/galaxy-z-fold5/buy/
Galaxy Z Fold5 256GB (Blue) (SM-F946BZBAATS)
https://www.samsung.com/au/smartphones/galaxy-z-fold5/buy/
Galaxy Z Fold5 512GB (Icy Blue) (SM-F946BLBEATS)
https://www.samsung.com/au/smartphones/galaxy-z-fold5/buy/
Galaxy Z Fold5 512GB (Phantom Black) (SM-F946BZKEATS)
https://www.samsung.com/au/smartphones/galaxy-z-fold5/buy/
Galaxy Z Fold5 512GB (Cream) (SM-F946BZEEATS)
https://www.samsung.com/au/smartphones/galaxy-z-fold5/buy/
Galaxy Z Fold5 512GB (Grey) (SM-F946BZUEATS)
https://www.samsung.com/au/smartphones/galaxy-z-fold5/buy/
Galaxy Z Fold5 512GB (Blue) (SM-F946BZBEATS)
https://www.samsung.com/au/smartphones/galaxy-z-fold5/buy/
Galaxy Z Fold5 1TB (Icy Blue) (SM-F946BLBFATS)
https://www.samsung.com/au/smartphones/galaxy-z-fold5/buy/
Galaxy Z Fold5 1TB (Phantom Black) (SM-F946BZKFATS
https://www.samsung.com/au/smartphones/galaxy-z-fold5/buy/
Galaxy Z Fold5 1TB (Cream) (SM-F946BZEFATS)
https://www.samsung.com/au/smartphones/galaxy-z-fold5/buy/
Galaxy Z Fold5 1TB (Grey) (SM-F946BZUFATS)
https://www.samsung.com/au/smartphones/galaxy-z-fold5/buy/
Galaxy Z Fold5 1TB (Blue) (SM-F946BZBFATS)
https://www.samsung.com/au/smartphones/galaxy-z-fold5/buy/