Hello.until now walang software update yung tabA8 ko ng android 12.kailan kaya?thanks
FYI lang po hehe baka makatulong.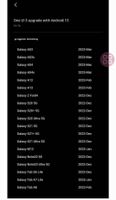 Iyan ang schedule ng updates
😄
Hello cobapril,
Thanks for your inquiry and keen interest on the latest software updates for your Samsung Galaxy Tab A8, here.
While we do our best to release the latest software updates for all applicable devices and services as soon as possible, rollout and release times may vary depending on device version and model or service version, country/region, and network-dependent.
We thank you for your patience.