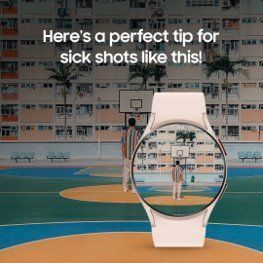 Up your photography game with your Galaxy Watch! Beyond telling time and sending messages, your Galaxy Watch has many other cool features. For example, it can control your phone's camera, giving you a live view of what your phone sees. Capture group shots flawlessly or get that new scenic solo shot by previewing the scene beforehand on your watch.
Controlling your phone's camera
Use your watch as a mini preview of what your phone's camera is seeing and get the perfect shot.
On your watch, navigate to the Camera Controller app. The Camera will automatically launch on your connected phone. Here are some features of the Camera Controller app:
Take photos and videos: Point the phone's camera to the desired location, and then tap Capture on the watch. To record videos, you will need to switch to Video mode on your phone first, and then you can tap Record on your watch. Some camera modes are not compatible with the Camera Controller app.
Switch camera orientation: Flick up on your watch to switch between front and rear facing cameras.
Timer: Tap the Timer icon to turn the timer on or off.
Preview: Tap the Gallery icon next to the Capture icon to view your photo(s). A preview of the previous photo taken will be displayed.
Older Galaxy Watch models
Tizen-based Galaxy Watches can also use the Camera Controller app. However, the app does not come pre-installed like in the Galaxy Watch4 or Watch5. So head over to the Galaxy Store to download the app!