If someone showed you the Galaxy A52's specs without telling you the name of the phone, you would never realize that it's a sequel to the Galaxy A51. There are many high-end features on the Galaxy A52 — stereo speakers, water resistance, high refresh rate screen — that elevate it above what we expect from a mid-range Galaxy smartphone.
It's not just the upgrades that will excite customers. The fact that the Galaxy A52 comes with a Snapdragon processor for every market is going to make more than a few people happy. Throw in stuff like a big battery, 25W super fast charging, and three years of guaranteed OS updates along with the latest software out of the box, and the Galaxy A52 becomes a huge year-on-year upgrade and an even huger (is that a word?) upgrade for those using a two-year old phone, such as the Galaxy A50.
But do those features come together in a cohesive manner and make for a great user experience, or did Samsung just check them off the list for marketing purposes and call it a day? Find out in this Galaxy A52 review.
Galaxy A52 design
The first sign of just how different the Galaxy A52 is from its predecessors comes from the phone's design. The front is still all screen with a punch hole for the selfie camera, but all the rainbow-ish gradient effects have been replaced by a smooth, clean look at the back of the phone. This simplistic approach is common to all of Samsung's 2021 A series mid-rangers; everyone here at SamMobile likes it, and you probably will, too.
Samsung has opted for a matte finish on the back
Samsung has also opted for a matte finish on the back, which makes the A52 feels a little more premium than the A50 and A51, even though the back and sides are still plastic. Of course, the biggest design change cannot be seen, only experienced. The Galaxy A52 is water and dust resistant, which means it's going to be far more durable in day-to-day life. Water resistance is not high on the list of must-haves for everyone, but its presence on the A52 is very welcome.
Thanks to the 6.5-inch display, the Galaxy A52 balances screen estate and ease of use very well, and at 189 grams, it weighs just right. If you think 189 grams is too much, keep in mind that the A52 has a 500 mAh larger battery than the Galaxy A51 and Galaxy A50, and that translates to almost two days of battery life with light use (more on that in the battery section). And you get a microSD slot and a headphone jack as well, though the former is a hybrid slot this time around so you can either use two SIM cards or one SIM card and a microSD card.
Galaxy A52 display
The 90Hz refresh rate on the Galaxy A52 makes it feel a lot more like Samsung's flagship phones in everyday operation than any other mid-ranger the company has put out. Other mid-range Galaxies can be quick, but they are never fluid. That is no longer the case. The Snapdragon 720G is perfectly capable of consistently driving that high refresh rate, resulting in smooth animations and scrolling across the board.
The Galaxy A52 offers a fantastic viewing experience with its AMOLED screen
There are some slowdowns here and there, like when you are playing a game and switch to the home screen or when apps are updating in the background, but 95% of the time, the high refresh rate sticks. In fact, I think 90Hz strikes the right balance between performance and battery life. While some folks may be able to tell the difference between 90Hz and 120Hz, most customers will be fine with either.
Even with the high refresh rate turned off, the Galaxy A52 offers a fantastic viewing experience with its AMOLED screen. You get vivid colors, deep blacks, and wide viewing angles, and the 800 nits of brightness that the display can touch in high brightness mode is more than enough for comfortable viewing under harsh sunlight (although the display can be a bit too reflective at times). Oh, and the display is protected by Gorilla Glass 5 instead of the now outdated Gorilla Glass 3 found on the Galaxy A51.
The built-in fingerprint sensor is also excellent. Samsung's in-display sensors were rather mediocre for a while when they were first introduced, but the one on the Galaxy A52 is fast and has a very low failure rate. As usual, you can opt for facial recognition for more convenient device unlocking, though that isn't as secure as fingerprint recognition and never will be.
Galaxy A52 cameras
The Galaxy A52 has a 64MP main rear camera with optical image stabilization, a 12MP ultra-wide camera, a 5MP depth camera (used for bokeh pictures), and a 5MP macro camera. Let me start with the macro camera: It's as useless as the macro cameras on other Galaxy phones. At just 5 megapixels and without any autofocus, the photos you get are lifeless and lack detail, and finding out just when the object is in focus is very tough. You might get some good pictures of your food, but at the end of the day the macro camera is just there to pad the spec sheet.
The 64MP rear camera is excellent for a phone in the mid-range segment
The 64MP rear camera, meanwhile, is excellent for a phone in the mid-range segment. Thanks to OIS, blurry pictures (and shaky videos) are a thing of the past, and photos taken in daylight are sharp and have good dynamic range, although the color reproduction can sometimes be off and make things look less colorful than they actually are. Nighttime performance is pretty good as well even without the help of Night mode. In fact, for some reason, the phone sometimes takes better low-light pictures in auto mode than in Night mode.
Night mode doesn't light up dark areas of the image as much as it should, and the only advantage I see is reduced noise, but that comes at the expense of reduced detail in dark areas (a result of those dark areas not being lit up properly). I guess it's nice that the regular Photo mode automatically does a good job with low-light pictures, but it's not nice to have a Night mode that does the opposite of what it's supposed to do. Thankfully, advanced users can switch to the Pro mode to adjust values such as shutter speed and ISO during the night to get better results.
Below is an extreme example of how Night mode can sometimes do the opposite of what it's expected to do (slide left for the Night mode shot). The Night mode shot looks nice, but it's too dark.
The ultra-wide camera does a commendable job, though ultra-wide photos can lack detail and also need sufficient amount of ambient light to be usable. The depth sensor, meanwhile, enables impressive bokeh when the subject and lighting are right. Loose hair, as usual, is problematic sometimes, but that's to be expected with phone cameras no matter how costly a device might be. Selfies on the A52 come out sharp and well exposed. Low-light situations are hard and result in soft images, but you can use the screen flash to get around that.
The A52 is also the first mid-range Galaxy phone to get Pro video mode, and it works just as well here as it does on the flagships. You can shoot at 4K or Full HD in Pro video mode, although 60 fps is only available for Full HD in both Pro and regular video modes. All of the usual suspects are also there, such as slow motion, super slow-mo, panorama, food, AR Doodle, hyperlapse, and night hyperlapse. Single Take is included as well.
Galaxy A52 software
The Galaxy A52 joins an ever-growing list of phones that run Android 11 and One UI 3.1 out of the box. You get most of the software features you see on the flagship Galaxies, such as the full Bixby suite which includes the excellent Bixby Routines; all the Google integration that the Galaxy S21 introduced, like Google Discover on the home screen and Google Messages set as the default SMS app; and everything else we've come to love on Samsung's phones, like a screen recorder, theme support, Samsung Pay, Secure Folder, Edge panels, and Always On Display.
You get most of the software features you see on the flagship Galaxies
The Galaxy A52 does miss out on one very useful feature introduced with One UI 3.1: video call effects. This feature allows you to blur the background in popular video calling apps such as Microsoft Teams, Zoom, and Google Duo, and I can only assume the lack of raw horsepower on the Galaxy A52 is the reason why video call effects are missing. Or, well, they're missing because Samsung doesn't want complete parity between its mid-rangers and flagships when it comes to software functionality.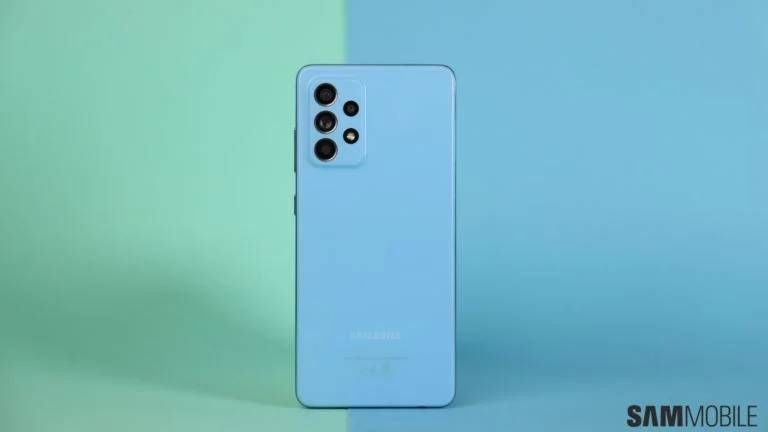 Where the Galaxy A52 does match Samsung's flagships is long-term software support. Like the Galaxy A51, the Galaxy A52
will get three guaranteed OS updates and four years of security updates
. That's more than what any manufacturer other than Samsung is offering in the mid-range segment. While some manufacturers do provide a lot of updates to devices priced similar to the Galaxy A52, none
promise
to do it, which is what makes all the difference in the world.
Galaxy A52 performance
The Snapdragon 720G isn't the most powerful chipset around, but it's more than sufficient to offer a fast and smooth user experience no matter what you might be doing on the phone, something you couldn't say about the Galaxy A50 and Galaxy A51. As mentioned in the display section, things can slow down sometimes, but it's rare enough that you won't find yourself complaining.
Gaming performance is excellent, too, with titles like Asphalt 9 and Call of Duty running well at the highest graphics settings without heating up the phone too much even after long sessions. However, I didn't see the option to play Asphalt 9 at 60 fps, so the high refresh rate may not come into play (no pun intended) in most games (to be fair, that's also true in many games for flagship phones with high refresh rate displays).
Galaxy A52 battery life
Samsung's A5x lineup of phones has finally received a battery capacity upgrade, and the 4,500 mAh cell inside the Galaxy A52 delivers in spades. With light to moderate use and the high refresh rate turned on, it can go almost two days without needing a charge. With heavy use, you can easily get to your bedtime before needing to plop it on the charger. Battery life is fantastic, in short, and won't let you down, ever.
The Galaxy A52 can go almost two days without needing a charge
With a 25W charger, you can also charge the phone to full in an hour and 15 minutes, while 10 minutes of charging gets you to around 20%. Unfortunately, you only get a 15W charger in the box, which means you're looking at around two hours for a full charge if you don't separately buy a 25W brick. It's a cost-cutting measure I wish Samsung didn't make, especially since this is the first time the A5x lineup has made the jump to 25W charging, but it is what it is.
Galaxy A52 audio, call quality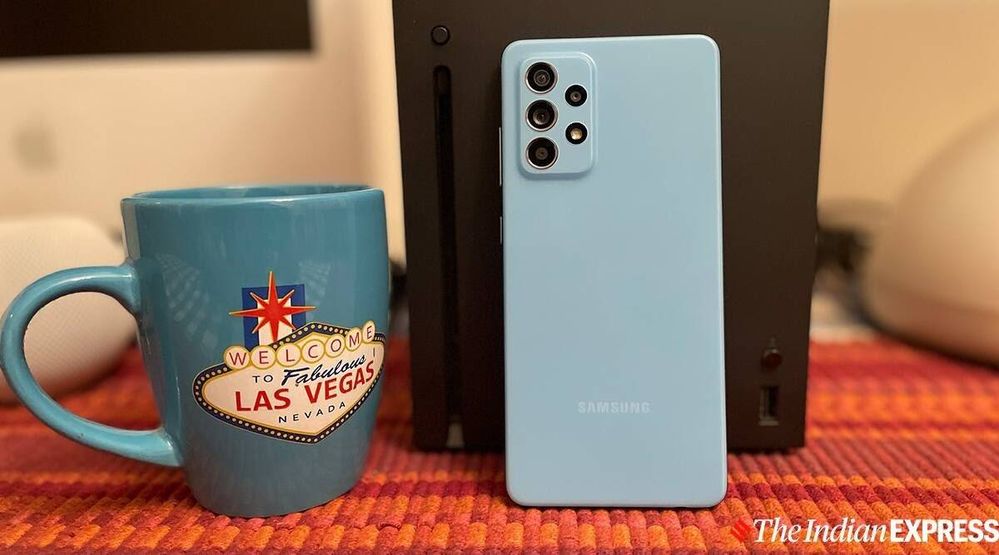 The Galaxy A52 and Galaxy A72 aren't the first mid-range phones from Samsung to feature stereo speakers, but they are the first ones with stereo speakers to be globally available. Samsung claims the stereo speakers make for louder sound output compared to last year's Galaxy A51 and A71, but I can't say I noticed much of a difference, even with Dolby Atmos enabled.
These speakers are maybe 10% louder, although thanks to the stereo setup, they do offer fuller, more punchy sound. Not as punchy as the speakers on Samsung's flagship phones, but certainly better than anything we have seen heard on any previous mid-range Galaxy phone. They certainly made watching the latest Godzilla vs Kong trailer enjoyable, though I wager most customers will still want to use earphones instead.
And yes, the Galaxy A52 does feature a headphone jack, but you will have to bring your own earphones as there are none in the box. In fact, I think Samsung has stopped putting earphones in the box for good no matter which segment a phone might belong to. Not like the earbuds the company provided with its mid-range phones were amazing, but you have to keep the extra expenditure in mind when buying these devices.
As for call quality, I have no complaints. Everything works as well as it should in this day and age. For those wondering, the Galaxy A52 supports carrier aggregation and can connect to 4G+ networks, unlike handsets in Samsung's Galaxy M and F series.
Galaxy A52 verdict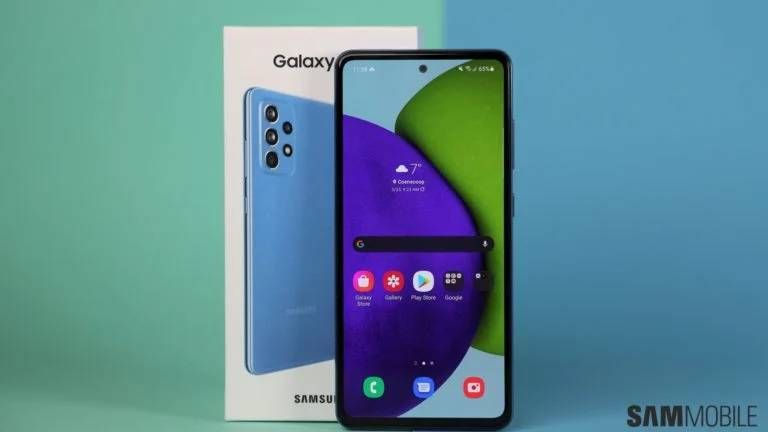 The Galaxy A52 is the best mid-range phone from Samsung yet. Actually, it feels a lot like a high-end phone, and in some markets, that's the reason why it's priced a little above the Galaxy A51. It's a good thing then that you're getting an excellent phone. The only disadvantage I see is that you are still getting a macro camera instead of a zoom camera, and perhaps the stereo speakers could have been louder. Other than that, the Galaxy A52 does everything right, and you can order one with your eyes closed if you're in the market for a sub-$400 phone.