hello everyone! i'd like to ask how to speed up the camera shutter of Galaxy a53 5g since the camera assistant app is only for S series phones. Are there any ways other than that?? please tell me, badly, I need to speed up my camera shutter
Go to Camera > Pro mode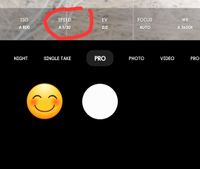 Hello rutolvr,
Thanks for reaching out to us here in order to find out about speeding up your beloved Samsung Galaxy A53 5G. Aside from our dear Samsung members' Red0902 reply, you can add below recommendations.
Be sure to check if your device's software and related apps (Camera) are updated to the latest version. To update your mobile device's software, follow these steps:
Step 1. Go to Settings > Software update.
Step 2. Tap on Download and install.
Step 3. Follow the on-screen instructions.
Clear the cache of Camera app.
Step 1. Go to settings, then tap Apps.
Step 2. Select the Camera app that you want to clear for.
Step 3. Tap Storage.
Step 4. Tap Clear cache.
You may also submit a report through the Samsung Members app as follows:
Step 1. Launch the Samsung Members app, and then tap the Support icon for more options.
Step 2. Scroll and select Error reports.
Step 3. Choose a category of your concern. Select "Camera".
Step 4. Choose the frequency of the issue you are experiencing. Enter issue details or attach a video or screenshot. Then press Send icons to complete the report.
Should you need further assistance and guidance, you may contact us via our Samsung Customer Care support channels below.
#GALAXY or #425299 [Mobile Phones & Tablets]
Available 24/7
1-800-10-7267864 [All Product, Toll Free, PLDT]
1-800-8-7267864 [All Product, Toll Free, Globe]
842 221 11 [All Product, Landline]
Daily (8:00am to 8:00pm)
Be sure to click "ACCEPT AS SOLUTION" when you find our answers helpful to you.
Stay safe and have a nice day ahead! Thanks for contacting Samsung.
Hi rutolvr, you can check out your camera's Pro mode to adjust the shutter speed as well as other options! 😊