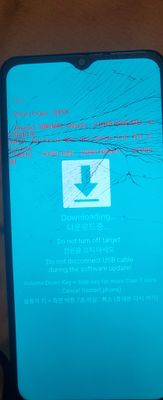 Any help, is appreciated! 🙏 Sorry my screen is cracked.... and of course, tho the pic I took was readable, the pic shown here looks like **bleep**. 🙄 Bout to be done talking up Samsung, and go back to Apple. Beyond pissed rn. 😤
Hello eweebs87,
We are sorry to hear about your experience with your beloved Samsung Galaxy A32 5G having issues with the cracked screen and bootloader messages. I feel and understand your situation, if it happens on my device, I will be frustrated too.
Seeing the cracked screen and with error messages popping up, I highly recommend bringing your device to the nearest Samsung Service Center in your area. Rest assured that our Samsung engineer and technician are competent to handle such technical issues by assessing first your device, guide you, and offer solutions to restore your device to optimum performance.
https://www.samsung.com/ph/support/service-center/
or book an appointment with the Samsung Members app as follows:
Support > Book an appointment to set one.
Should you need further assistance and guidance, you may contact us via our online Samsung Customer Care support channels below.
https://samsung-livechat.sprinklr.com/seao/ph/index.html
Or our Samsung Customer Care direct hotline numbers below.
#GALAXY or #425299 [Mobile Phones & Tablets]
Available 24/7
1-800-10-7267864 [All Product, Toll Free, PLDT]
1-800-8-7267864 [All Product, Toll Free, Globe]
842 221 11 [All Product, Landline]
Daily (8:00am to 8:00pm)
Be sure to click "ACCEPT AS SOLUTION" when you find our answers helpful to you.
Stay safe and have a nice day ahead! Thanks for contacting Samsung.
The code above is unreadable. Medyo malabo din ang mata ko eh.