I have this old yet hardworking note 8 without a SIM and doing wifi only.
in dollar stores I've seen those prepaid cards.
would it load on my note 8?
is the SIM included?
what area code does it belong to?
416, 905, 666?
thanks!
update.
the following day I headed to walmart and chose the cheapest lucky plan: $15/month
➡️
100 min / unlimited text / no data.
there was no risk of a factory default reset, though I completely forgot to unmount the 128 gb sd card before the walmart lucky agent removed the slot to install the sim card.
luckily nothing happened, no data loss.
unluckily, my luck is not an unlimited force.
a few hours later I received my first SMS.
that's good, phone is working.
to my bewilderment, this first SMS was spam/scam.
good lord, how did they find me?
was my number used before? it's 416. I googled it but nothing came up.
other than that, I'm happy.
or with a thick french accent: "I found apenis"
😄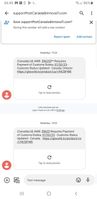 .....