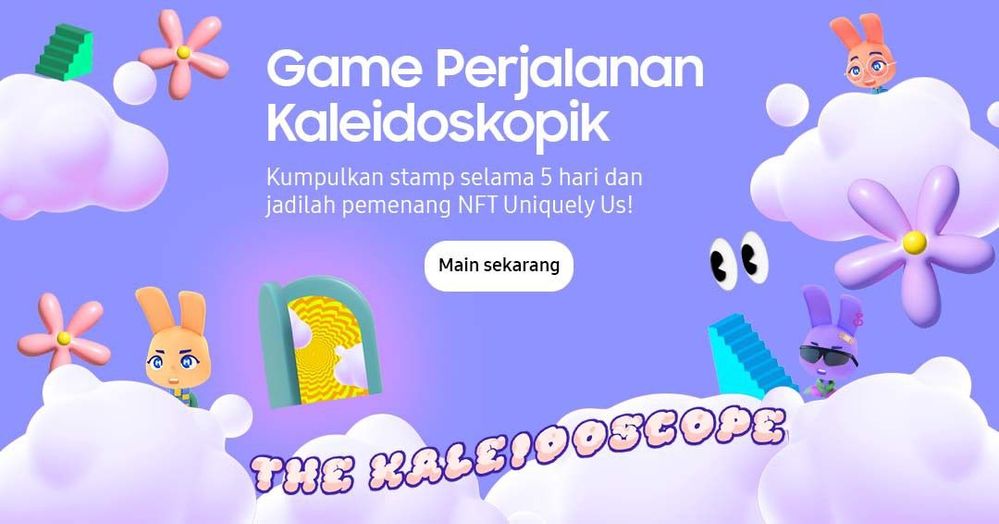 Hi, Members
Kumpulkan stamp selama 5 hari dan jadilah pemenang NFT Uniquely Us!
Permainan apa ini?
Sekumpulan Samsung Members dengan tiap keunikannya masing-masing, menemukan kaleidoskop di lapangan terbuka. Menelusuri ke dalam, mereka melihat dunia yang dinamis dan penuh warna, The Kaleidoscope, yang menyuarakan keragaman dan keunikan!
Saat menelusuri The Kaleidoscope, mereka menemukan dunia dengan ide dan perspektif baru, momen di mana jika mereka bekerja sama, sesuatu yang bahkan lebih indah daripada hal yang akan dibuat sendiri akan tercipta.
Hanya 40 Samsung Members di Indonesia yang akan dipilih untuk memasuki The Kaleidoscope dan bergabung dengan Samsung Members lainnya di seluruh wilayah. Apakah kamu akan menjadi salah satu Samsung Members yang beruntung untuk menemukan keajaiban luar biasa di akhir perjalanan ini?
Bagaimana cara bergabung?
- Log in ke Aplikasi Samsung Members setiap hari untuk mengumpulkan stamp.
- Hanya 1 stempel yang dapat dikumpulkan setiap hari.
- 40 Anggota Samsung Members di Indonesia yang mengumpulkan semua 5 stamp akan memenangkan NFT Uniquely Us yang menjadi tanda masuk ke The Kaleidoscope.
Setiap pemilik NFT juga dapat melakukan redeem animasi ponsel eksklusif.
1 Solution
Halo Members,

Untuk Members yang tidak bisa berpartisipasi dalam game berikut, dimohon untuk mengirimkan kode device model kalian (cek di settings > about phone) via DM ke Moderator yaa.

Contoh :

Judul DM : Game Kaleidoskopik!
Isi : Berikut kode device saya mod, SM-XXXXX

Terimakasih😃