Options
Mark as New

Bookmark

Subscribe

Email to a Friend
In progress...Thanks to @Tallman, @Inspgadget, @Ottawalker @Shanan, @Grace425, @Kiwimart4 @Hypnotica85, @Atreyu, @KSMC and many others photographers to share their pictures with me and made those articles possible...
If you like this article, do not hesitate to click on LIKE because it encourages me to continue .
(Click pictures to enlarge...some pictures will be replaced soon for the appropriate langage)
How to switch from a "Black and White" image and add color to it with the Samsung editor or with your camera.
Would you like to succeed THIS: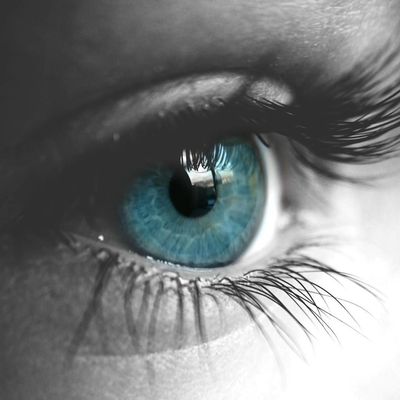 This photo is courtesy of JeF Canton
OR this :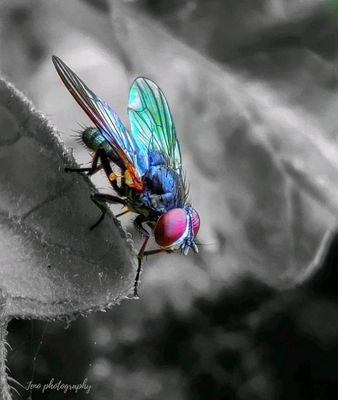 Courtesy Jeno Photography
Here is a list of my articles , i have 15 other to share with you soon :
In fact, I may not have told you the whole truth because in order to successfully reproduce photos like the ones above, the photo taken had to be in color at the start . So I am going to explain to you what is really going to happen technically and then you will better understand why we have to remove the color and then put it back.
You need to know this: when you take a black and white photo, the reality is that you are taking a color photo that has had the color intensity reduced to ZERO but you can still get the colors back if you want to. elsewhere here is a screenshot proving it to you: If you edit the black and white photo you took, your editor will ask you if you want to RESTORE the photo ... if you say YES you will see the color photo which is the photo actual that was recorded on the device. Admit you didn't know that, eh?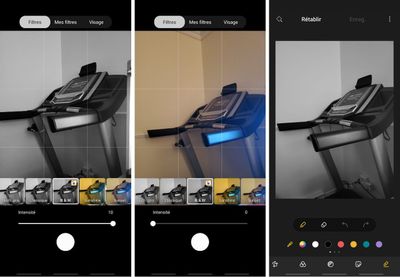 It might be difficult to understand that the intensity of the colors has been reduced to ZERO when we see the opposite in the screenshot but the fact remains that we had to put the cursor at MAXIMUM to remove the color.
Here is how it works technically, it will help you better understand the steps below.
Samsung will first create a Black and White image of your color photo which will be layer 1
Then, they will create a color layer of your photo that they will overlay on the Black and White image.

So layer 2 added ON layer 1
Then, with the erase, you will erase the unwanted parts on your color filter (layer 2) and since it will be erased, you will see the Black and White photo below.
Once you are satisfied with the given result and save your photo, Samsung will melt / flatten the 2 layers together to give you the final version of the future photo.
Here, you will have succeeded in making a superb image, I do not even doubt it.

Now here is the PRACTICAL part of this article.

Here's how to go from a black and white image and add color to it ...

In fact, I should rather ask you how we go from colors to Black and White and then put the color back and then erase it ... ARE YOU FOLLOWING ME ??? I did not either LOL .

So here is how to do it with the Samsung's Editor .
Here's how to go from a black and white image and add color to it ...
In fact, I should rather ask you how we go from this to that thanks to the publisher of Samsung. Since I worked on the phone screen which is very small, it may have color overflows ...
To succeed in this trick, I USE THE S-PEN of my Tab S4 tablet with my Note10 + . It allows me to go to the smallest corners when I work on my image !!!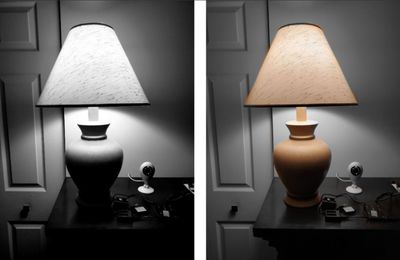 That said, there are 2 ways to get this result and we will look at them together
Step 1 and 2
Find the photo you want to edit in the Photo gallery and then click on the pencil which will open the Samsung editor.

Then you will click on the 3 small dots at the top right and you will see the following window. Click on Zone Color and suddenly the colors will disappear from the photo.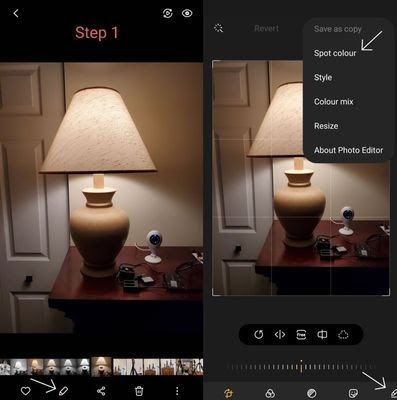 EN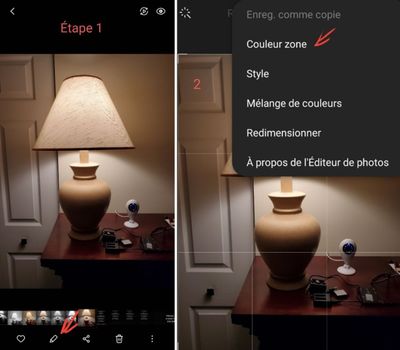 FR
Now we are going to do the reverse and add color to the photo.
Photo 3 , With to this icon, you can add color to the entire photo
Photo 4 , Click on the erase. As the name says, you are going to ERASE the areas of the image where you want to REMOVE the color. You will notice that the eraser size is 28 at the moment and allows you to roughly define the different areas .
You do what is possible to do and then you will decrease the size of the eraser to better define the areas or remove the colors and allow you to go into small details.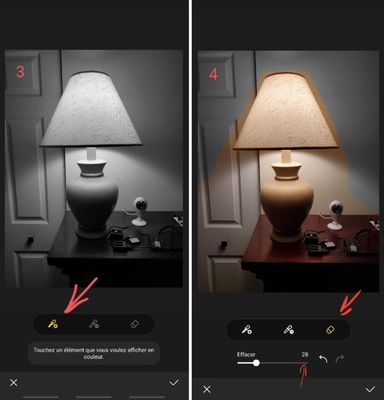 Photo 5 Gradually erase the colors until you are satisfied. Then, click on the small one
at the bottom right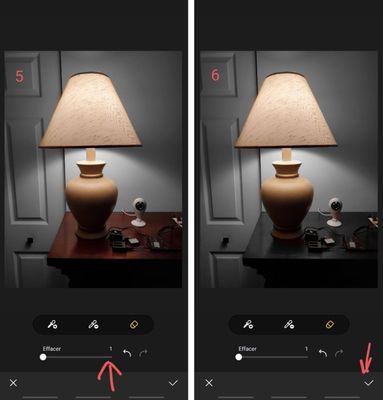 And if you are satisfied, save your image.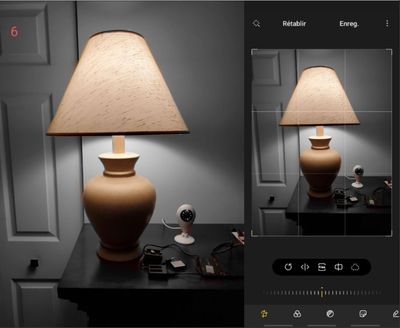 Here is the result ... Not bad ?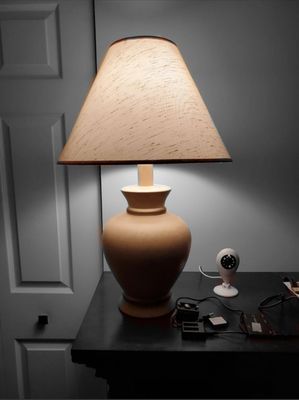 Way # 2, this time, it will be done automatically with your camera
The second way is not as precise as the first BUT you will not need to go through the whole process described above to get a certain result. However, I cannot tell you if all Samsung devices allow this. possibility or if it is reserved for high-end devices but hey, I imagine that there will be one among you who will tell me.
Here are some examples :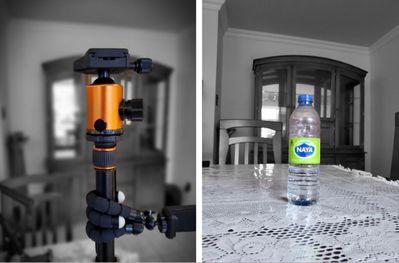 1, Choose PORTRAIT mode and then select COLOR POINT. You might be surprised to see all the filters that Samsung offers in this mode which you may never use. But for now, we will only talk about the color point since it is the one that is responsible for the second solution.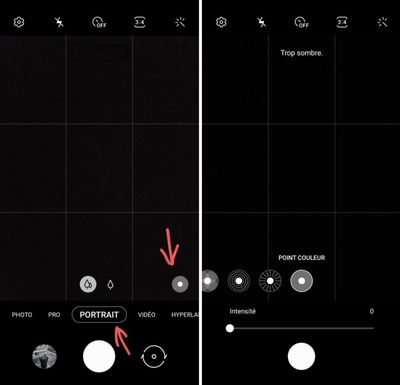 In this Mode, you will see a slider from 0 to 7. This has the function of blurring or not the background as in the following photos. Take the time to enlarge the photos for better viewing.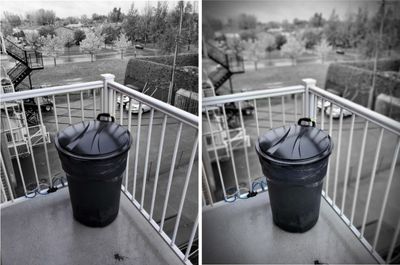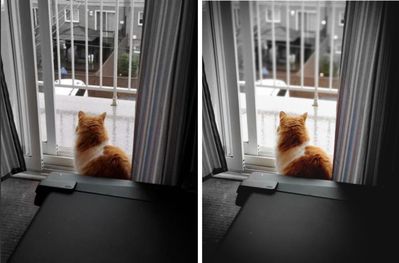 You will notice the instruction from Samsung which asks you to stand 1 to 1.5 meters from the subject for the best effect. That said, what you will see on the camera screen is not 100% of what you will get which is meant to be BETTER than what is on the screen. You will need practice to get the results you want but it will only give you better and it is by practicing that you become professionals and / or informed photographers.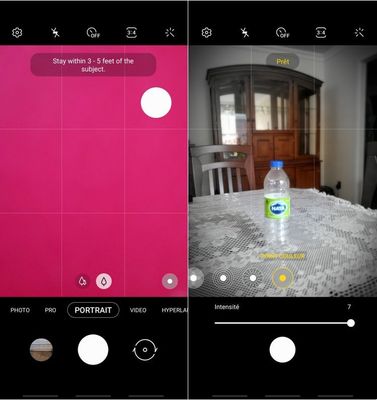 Here is what completes this article. Don't be shy about asking me questions!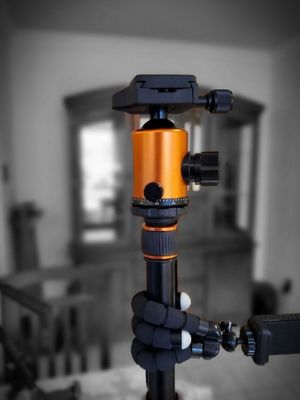 Home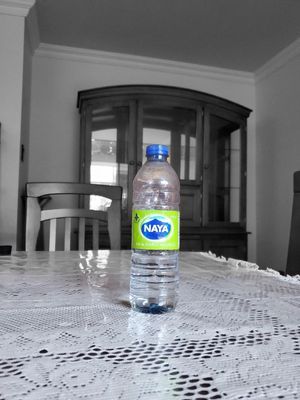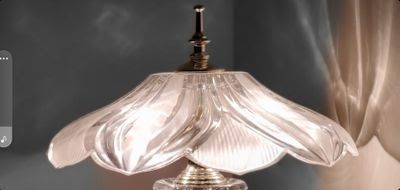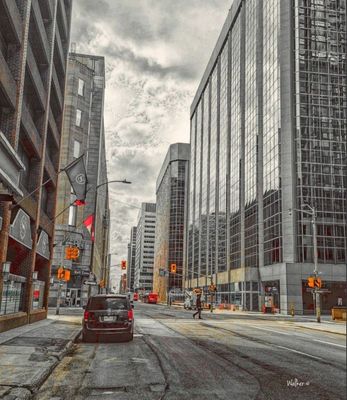 Courtesy of Darren C. Walker, photographer. (Ca) (@Ottawalker)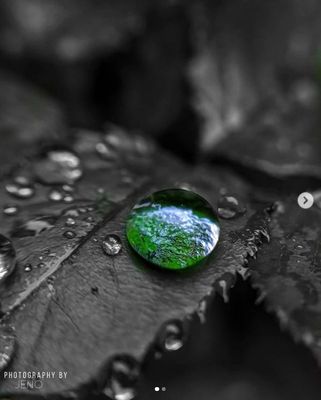 From Jeno photography
Are you satisfied or even surprised? Here is how I proceeded !!! It was easy NO? ...
@ZMAHD, I'd like to add your article's links about photography in my post. Did you agree with this ?
Also, If anybody already wrote any " How to " articles about Videos Samsung's Editor, please tell me.
Let's share the knowledge, it unites the Community.
To help Samsung's Members new photographers with their Samsung's devices, i hope than Samsung Canada will create a special folder for the tips and tricks of Professional photographers/Writers.
WE'D like to help newbies !
Don't be shy to show us what you did with your pictures after reading this post
Options
Mark as New

Subscribe

Email to a Friend
Very informative. Nice work Cassidy!
Options
Mark as New

Subscribe

Email to a Friend
Goog job. a lot of work to write this. Très beau travail. j'adore. Beaucoup de travail et tres instructif.