After update, my galaxy buds live have connectivity issues.
Current version of buds: V180XXU0AVC2
1st time connecting is fine on both sides but when I place them back into case and then put them in ear, only one side reconnects. So I have to disconnect them and connect again in order to use both buds. I believe the issue is software not hardware as they both do work on first connection.
Things I have tried:
Resetting buds
Turning off Seamless earbud connection
Updating (there are no updates available)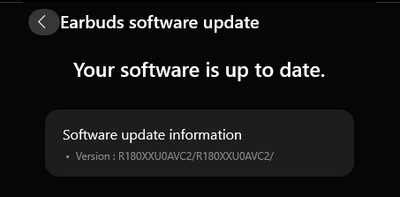 Contacting support. (They said I could not downgrade software and that I will have the send it to repair center, which I cant as I am in 2000km away from nearest center)
Hi, we are very sad to hear this issue.
We appreciate you for performing all the necessary troubleshooting steps.
So, we request you to contact our Live chat team by the link given below. They will help you to create a service ticket.
I had a similar problem which was caused by another phone in close proximity to mine had paired with one of my two earbuds. Check your family members or roommates or whomever is nearby, check their Bluetooth devices and have them "forget" your earbuds. This should correct the issue.