Today is Jan 2... 115 people showing finished.
that is 200000 steps in 2 days.
The world record is 100000 steps in a day... the person walked 20 hours in that day... and then passed out the best day to recuperate.
Anyone claiming 100000 steps in a day... especially those with back to back are lying
..
Remove them so those of us actually walking can see how we really are doing
To many cheats I'm watching one the now 90,000 odd steps in less than two hour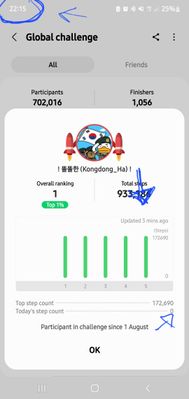 2nd screenshot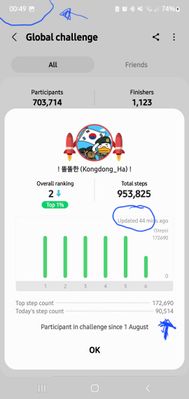 I have been doing the monthly step challenges since 2016 using Fit2, Watch 3 & now watch 4.
There are cheaters every month. And yes, they are cheating. No one can step (walk, run, crawl) 100,000 steps per day everyday. That's 50 miles folks.
Samsung has said they do try to monitor the issue, but it's probably never going to stop. I just ignore them. I shoot to do my best with the goal of top 30%, and usually make it 8 months a year.
There will always be cheaters..... probably some slug sitting on a bean bag chair in their parent's basement eating frozen pizza and playing fortnite.
Good luck to you all.