Recently purchased a Samsung (of course) Galaxy A8 Tablet 64gb., c/w Android 11.
No Biometrics, which is weird. Boot up is slow, compared to my Galaxy S21+ Smartphone.
The battery takes forever to fully charge, in spite of being larger than my Smartphone. I'm assuming the O/S is the culprit.
No matter where I search, I cannot find any info as to when the Tablet will get an Update to Android 12, which my Smartphone got last January/22
Android 13 is already in Beta, soon to be released.
Why is Samsung so slow with updating its Tablets?
Inquiring minds would like to know.
Thank you. 😊
Your device will normally get Android 12 update later this month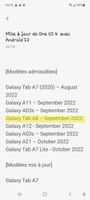 I sure hope so, otherwise I will be returning the item for credit.
The battery is far from long-lasting and takes forever to charge, there's no biometrics or themes. Guess I'm spoiled with my Galaxy S21+ Smartphone.
I should spend more money and buy the Galaxy S7. In the meantime, I'll see what improvements, Android 12 will offer.
Thanks for your reply. 👌
Here we are, October 1/22 and the update to Android 12 has still not been deployed.
Beginning to lose faith in Samsung. 🤔