Hello everyone, I have this samsung s23 ultra for 3 months now. I used to use a wired headphone (with type-c adapter from Samsung). Today I noticed that the headphone keep knocking with very low sound ( with music on , and without music too).
I restarted the phone whine I have the headphone on, so the sound disappeared only for 10 seconds while restarting, and it kept kicking again once the phone turns on (even before anything start, while having samsung welcome screen, the small knocking sound starts again).
I don't think I change any settings in my phone today. But I just noticed it once I take the Spen out to write a note
📝
.
But it doesn't stop again. It is so tiny, but annoying.
Unless you happen to be an audiophile & an acoustic purist, I'd suggest that you get some high quality Bluetooth headphones or Buds.
Personally I've tried Samsung's Buds, but for a variety of reasons I prefer Jabra Elite Active series. You may however have your own preference.
As for the annoying audio issue with your wired headphones, you could open the Samsung Members app & Click on Support, run the Diagnostics for the USB Port and Wired Headphones. See if you get any error messages?
Also inspect both the USB port & the Type C adapter for any debris or damage, even moisture.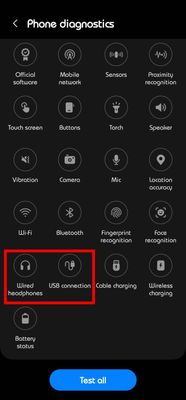 Maybe it's the adapter that is faulty as well. From experience, those adapters are very flimsy and break easily.

Do you have someone else around you that has a phone that you can test it with? Or maybe a tablet?