Options
Mark as New

Bookmark

Subscribe

Email to a Friend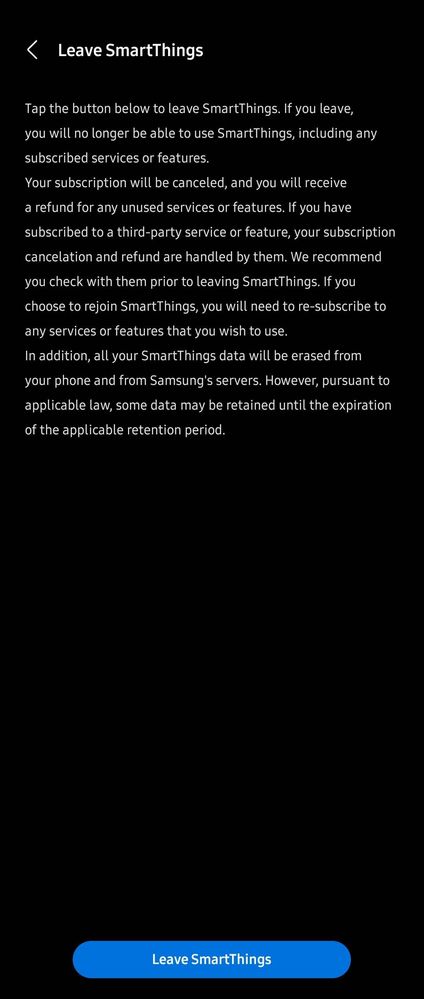 So I want to delete all my smartthings devices and start over with a clean slate for when I finally get my s22 ultra, I have never used routines or automations but would like to. Would just like to make sure everything is in smartthings correctly before I do.
This option says if I leave I would never be able to use smartthings again. So my hub and smartthings products become useless? That can't be right
If anyone has experience with this option or know how to start over with smartthings etc. please let me know thanks
Options
Mark as New

Subscribe

Email to a Friend
I think your smart products are not useless. Without Smartthings, you still able to use another platform to control your smart products. For example, Google Home.
Hi, This is called 'GDPR" (General Data Privacy Request)".
It can be initiated by the user from the app itself.
Once done, all the data related to Smart Things will be deleted and the time frame is within 48 hours.
The associated Samsung account will not be effected though.
However, we request you to reply to us in DM (Direct Messaging) with below information so that we can forward it to our team for review.
1. Name:
2. Email Address:
3. Smartthings device model numbers:
4. Email address associated with Samsung account:
Please check the direct message by following the below instructions and reply to us with the requested information.
Log in to the web version of Samsung Members community Canada (Link: https://r1.community.samsung.com/t5/community/ct-p/ca-community ) and click on the Message icon at the top right(Samsung Members) >> Inbox >> Reply to the DM (Direct Message).
OR
Viewing your Direct messages Inbox from your device.
On the Members app go to the Community tab.
Click on your profile picture and username
Click on Direct message.