Options
Mark as New

Bookmark

Subscribe

Email to a Friend
It looks the the "Smart stay" option is gone from my phone. The option to turn it on is no longer in the call settings. I did an online search and found out the following in the Samsung forums:
Go to the following:

• Settings
• Advanced Features
• Motions and Gestures
•
Keep Screen on while viewing


Samsung doesn't call it out as Smart Stay anymore.
Here's my problem. On my
Samsung Galaxy A11 the "Keep Screen on while viewing" is not there as an option.
I only see: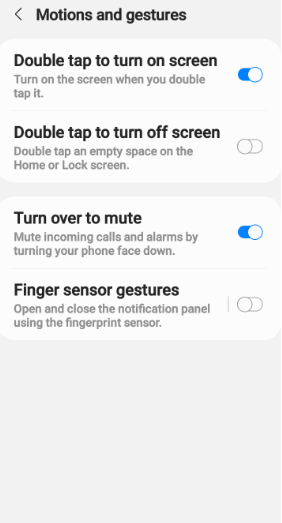 Apparently people with the Samsung Note see this option so Im guessing there's a compatibility issue with the A11 and the new android update.
This is frustrating for me as I'm using the Ooma office app to work from home. I make 50 plus calls a day and rely on the call display being readily visible as I often use company directories when calling businesses. The need to constantly wake up my phone while making calls or while in muti-participant phone conferences is not fun.
Has anyone noticed this feature gone with their phone? Can anyone direct me to a solution?
BTW, changing the screen time out from the display settings is not a solution as that only applies when the phone idles and is not on an active phone call. This issue came up when I updated to Android 11.