Just got the Tab S6 for my mom in. Upgrading her Tab S2. I just learned Smart Switch doesn't work on secondary profiles. Only primary admin account.
🙄
What I got for her: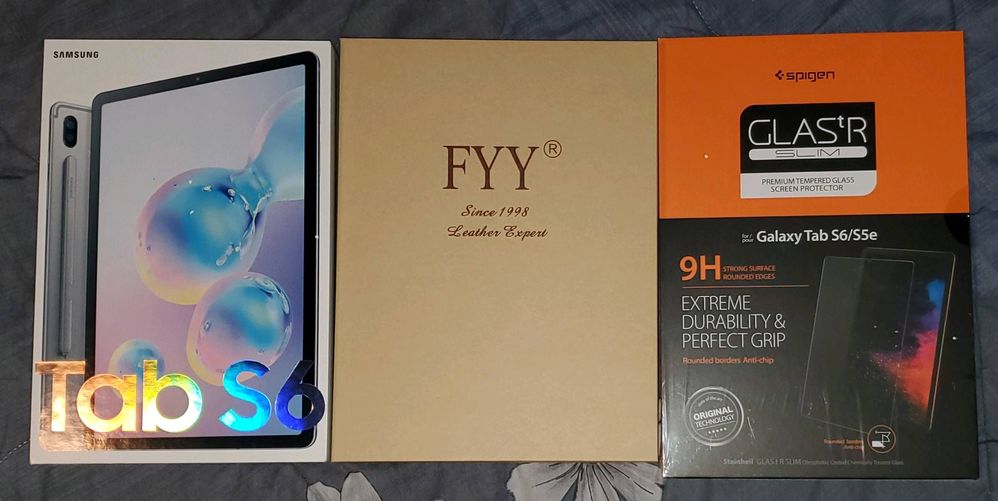 Screen protector:
As expected from Spigen, it's a good classic install of GlastR on a flat screen. Full adhesive. I did get a speck under the screen though and there are 1-2 miniscule air bubbles at the sides. But overall isn't bothersome as they are at the border edges and not the visual screen. It does smudge easily though. Needs frequent cleaning.
FYY Leather case cover:
This looks very professional and elegant. It's also a bit bulkier and offers a bit more protection. It's made of the usual cowhide leather with some soft felt like material for the interior. There is a silicone rubber protective back that the tablet slips into. It was stiff and difficult to get in at first, but a bit flexible now.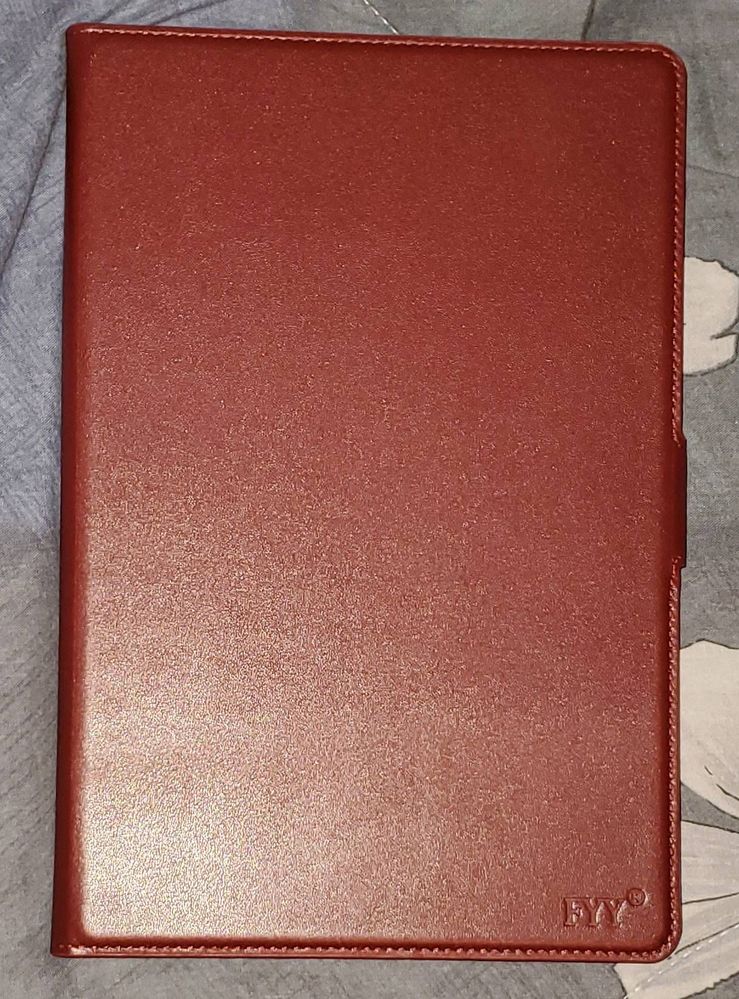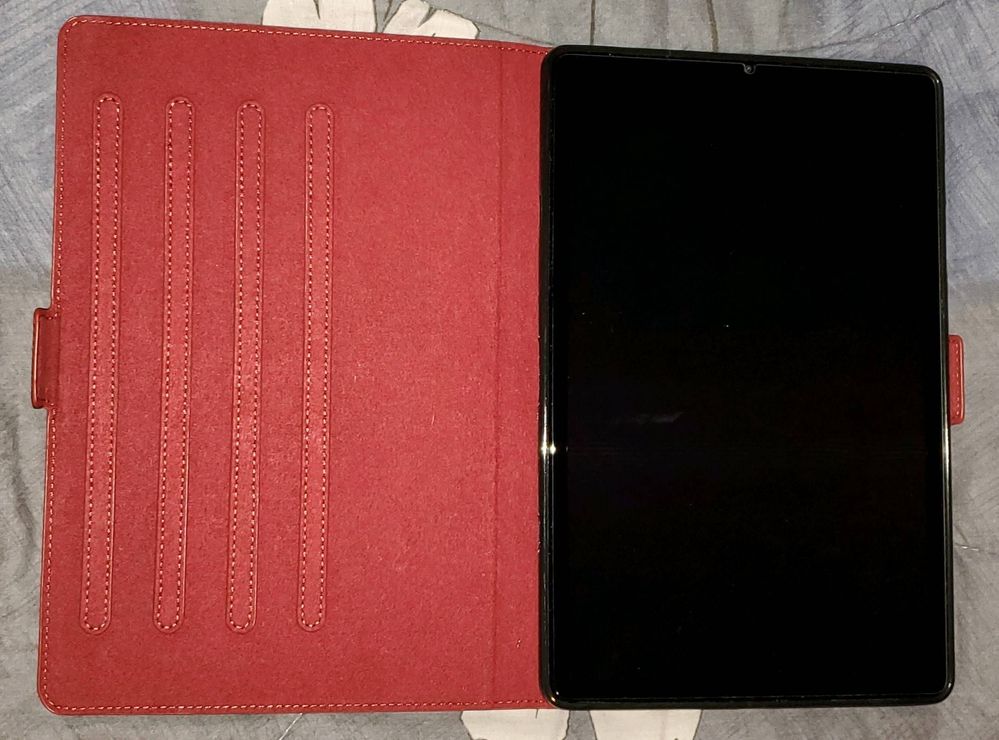 It does act as a stand as well for the tablet. Adjustable to 4 viewing angles. With the felt like material, leather strip and silicone rubber case, it stays put and won't slide easily. You can also sit this on your lap with no issue.
Cut outs were okay for the most part. The case has a cutout for the S Pen and camera, but does not offer additional support in securing the S Pen to the tablet. The S Pen does sit cradled in the cutout and more recessed (ie. doesn't bulge out as much if it was without a case). Though I wish it could have had an elastic loop or something to that effect to secure the pen more. It should also be noted, you don't have access to the SD card when slipped into the case. So if you need to access the card, you need to take it out of the case. The Side key and volume buttons are also recessed in, so may be a bit difficult to push down on them.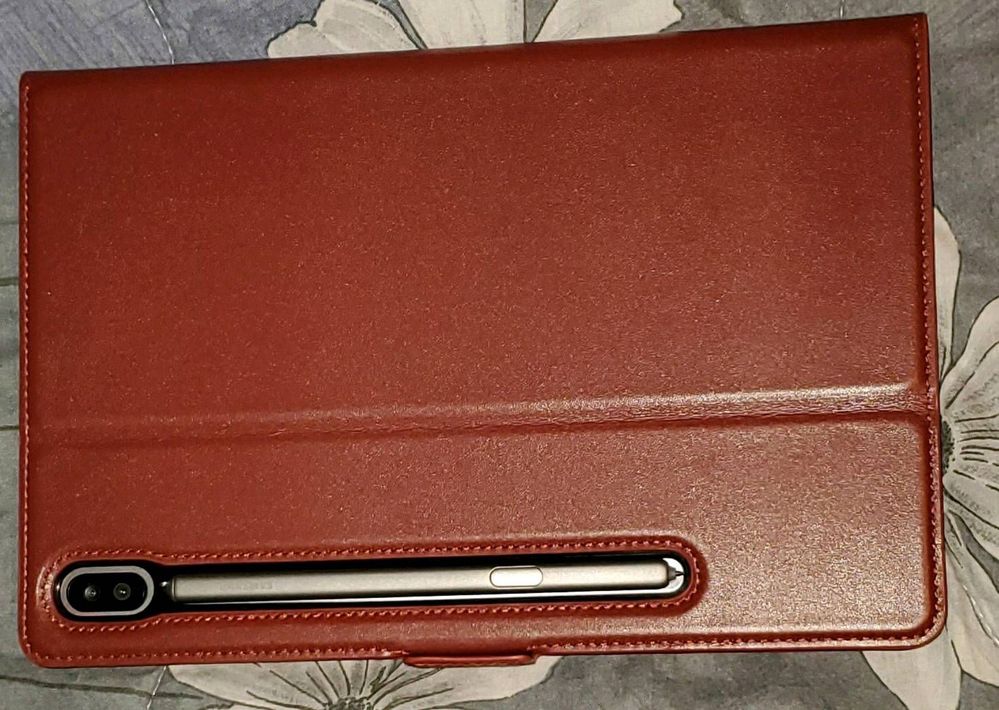 The silicone back does have a slightly raised lip around the entire tablet. So it does offer a bit of protection. Though it also attracts a lot of smudging. The cover
also uses magnetic clasps to keep the cover closed. It does support auto wake/sleep when opening and closing the cover as well.
Overall, I'm impressed with the case. No strong magnets or sticky adhesive to deal with.
Now a brief quick play with the Tab S6... It's definitely a huge improvement over the S2 (for obvious reasons).
😂
I did experience a few hiccups with it despite doing a clean install of Android 10. The camera app fails to respond when in lanscape mode. It constantly gives a blank screen. I have to terminate it as it hangs and becomes unresponsive. I have no issues with the camera if it's in portrait mode though.
The swipe up to go into app drawer also seems a bit too sensitive. I'll 'tap' a homescreen folder and it'll launch the app drawer instead. Strange behavior if nothing else. I did another cache wipe via recovery but that didn't help.
Despite all that, it works for the most part. Though I was still a little disappointed and expecting more. There's no 25w charging (especially if it's going to be consumed as a multimedia/gaming platform). No USB-c headphones (considering no headphone jack) and USB-c to a adapter. Their premium phones came with more than this.
Oh well, it's for my mom anyways. She can deal with it.
😅