Hi,
When you got a major update, sometimes some files got corrupted so WE recommand you to make a Wipe Cache Partition after each major update. This does'nt affect any of your files but can improve your device's performance and resolve many problems that could happen after a major update
To check how to make a Wipe Cache Partition on your device, just download this file and click on your device. You'll see the comment appear with the description on HOW TO.
If any error appears, please let me know, i will change it as soon as another user confirm it also.
Sometime, you need to connect your device to a computor with a USB filage to make it work...
Wipe Cache Partition is similar as a Tune-up for a car, so will it be better or not for your device ?
Enjoy
You have to download the file and click on your device to see how to proceed,...as exemple, this is what you should see if you click on Samsung Galaxy J3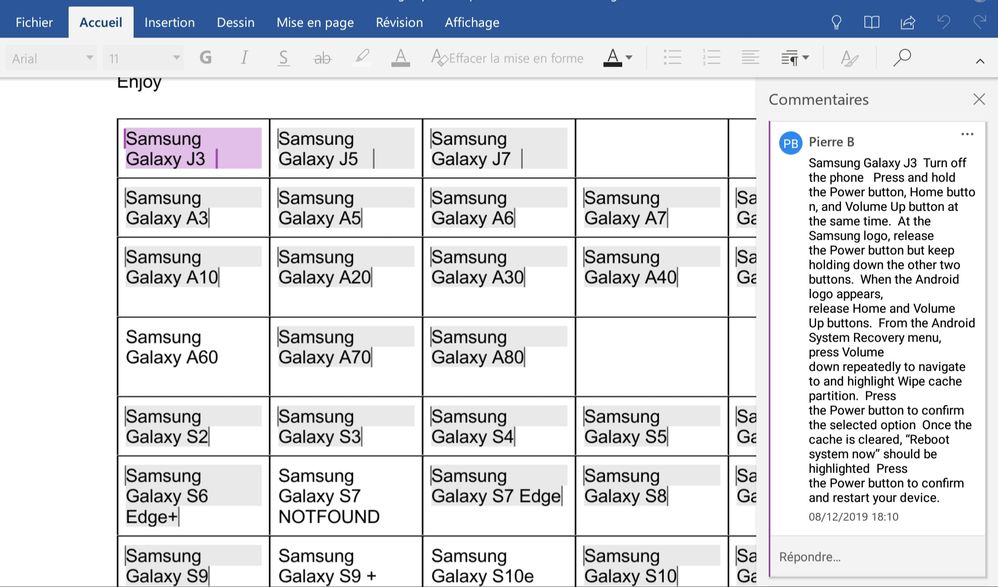 Wipe cache partition for all devices
Here is the link to download the file:
https://1drv.ms/w/s!AtVm1GOj5C5ExBvKXn4K8XCyAcLc
Lorsque vous obtenez une mise à jour majeure, parfois certains fichiers sont corrompus, nous vous recommandons donc de faire le nettoyage du cache système (wipe cache partition) après chaque mise à jour majeure. Cela n'affecte aucun de vos fichiers, mais peut améliorer les performances de votre appareil et résoudre de nombreux problèmes pouvant survenir après une mise à jour majeure.
Pour vérifier comment effacer le cache sur votre appareil, téléchargez simplement ce fichier et cliquez sur le modèle appareil. Vous verrez le commentaire apparaître avec la description de COMMENT FAIRE.
Si une erreur apparaît, faites-le moi savoir, je la changerai dès qu'un autre utilisateur la confirmera également.
Vous devez télécharger le fichier et cliquer sur votre appareil pour voir comment procéder, @ Shaggyskunk1 devrait m'aider pour ceux que je n'ai pas encore résolus ... à titre d'exemple, c'est ce que vous devriez voir si vous cliquez sur Samsung Galaxy J3
Wipe cache partition for all devices
Voici le lien vers le fichier francophone :
https://1drv.ms/w/s!AtVm1GOj5C5EyR5J1NnNcQW4XHu0