Greetings s22 ultra how do you enable the feature to take a note while you're on a call from the dial pad screen , I recently saw a video where the host clicked on the right hand corner three dots and there was a note taking feature my s22 does not have this what version of software do I need or how do I enable it?
While on the phone. Remove your SPen. Hold the pen close to the screen (leave about 1cm height), then press the button on SPen to trigger Air Command. Then create a new note.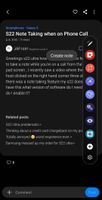 I've been requesting a more robust approach to this on the phone app for years. There really should be a large button on the phone interface that splits the screen and launch into a note. Also in the note app, a make call in the hamburger menu that does the same.