Suggestion/question related to Samsung Messages app
1. Suggestion - the ability to Archive message that you want to keep but are not necessarily needing to remain in the listing of current chats.
2. Question - Is RCS messaging coming to the Samsung Messages app in Canada. If it is here, how do I enable it?
2 Solutions
I think Bell support RCS, but see my screenshot. Is your phone meet their requirement?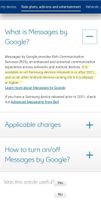 I'm sure Bell able to do that for you, give them a call and make a request like I did with Fido, if you get a good service rep and knowing what they are doing the process can be done within 24hrs. I got it done in like 2-3 days because of lv 1 reps whom have no idea what they are doing until I got last rep and they forwarded ticket to lv 2 tech and boom all done. Hope is info help and work for you. Btw I tested wifi calling work and RCS work as well, friends who using android phone can see my typing during chat.